Megachurch Pastor Johnson Suleman, Accused of Sex Affairs, Bars Church From Speaking Out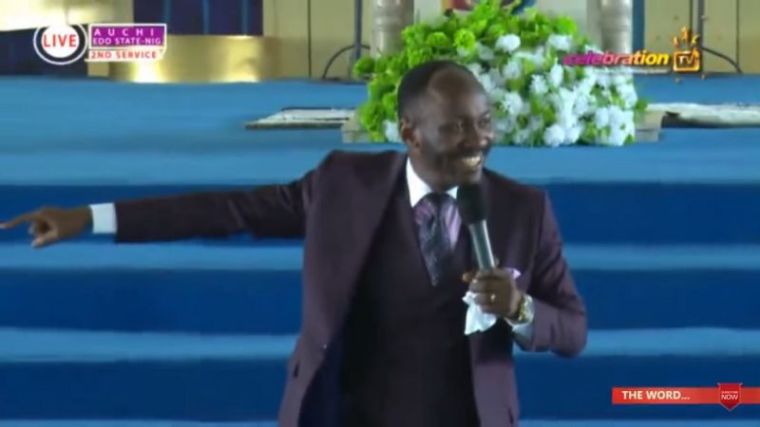 A controversial Nigerian megachurch pastor, Johnson Suleman of Omega Fire Ministry Worldwide who has been accused of having sexual affairs and pressuring women into abortions, has apparently sought to ban his congregation from speaking out further on the scandal.
Suleman has denied the allegations, Premium Times reported. The church's directorate of media issued a statement, saying:
"It has become imperative that we advise all Omega Children and Christians Worldwide to put an end to the ongoing media war that we have engaged in."
"Nobody is permitted further to issue a statement or comment on the matter. All Facebook Live Videos on the issue should also stop forthwith. It is advised that we spend our time concentrating on more relevant issues that bothers on the Kingdom.
"We are well aware were all these are coming from and we will deal with it spiritually."
A woman identifying herself as Queen Esther became the second woman on Sunday to accuse Suleman of a sexual relationship, after Canada-based singer Stephanie Otobo made the same claim last week.
The pastor has also been accused of "forceful abortion of pregnancy, and breach of marriage promise," the article stated.
Sahara Reporters noted that besides the adultery scandals, Suleman was also found to have gifted a $76,000 brand-new Mercedes-Benz 450 GL to Nollywood star Daniella Okeke in 2016.
Okeke apparently was questioned about the source of her wealth after she displayed the car alongside a brand new house, despite not featuring in any big movies in the past several years.
Reporters looking at a new website for vehicle registration in Lagos State found that Okeke's Mercedes-Benz car was registered to "Apostle Suleman Johnson."
The pastor has continued denying the accusations against him, however.
"God just told me something. And in 24 hours, marine will be disgraced publicly. Marine...I'm not just prophesying on you, I'm prophesying on myself. In 24 hours, the truth will be exposed," Suleman told his church members this past weekend on his Celebration TV.
"If the devil wants people to start doubting you, he attacks your reputation. We know this. And they won't stop. It's the truth," he added.
He accused other Christians of helping spread what he claimed were false rumors.
"And the truth is, the people who were busy actually spreading it were Christians, were pastors trying to discredit some of you that believe in this Grace," the pastor added.
"Please, when you get back, ask them 'how far?' And please mark those people, they are not your friends. If they are in your Facebook, or your this thing, tell them you are deleting them."
Suleman argued that he is being specifically targeted like other prominent church leaders in the past.
"Every minister must go through these three phases: the brethren will fight you, your reputation will be targeted, then government will come after you. I've passed through the three," he said.