Rock Church Pastor John Blanchard agreed to psychosexual assessment to dismiss prostitution case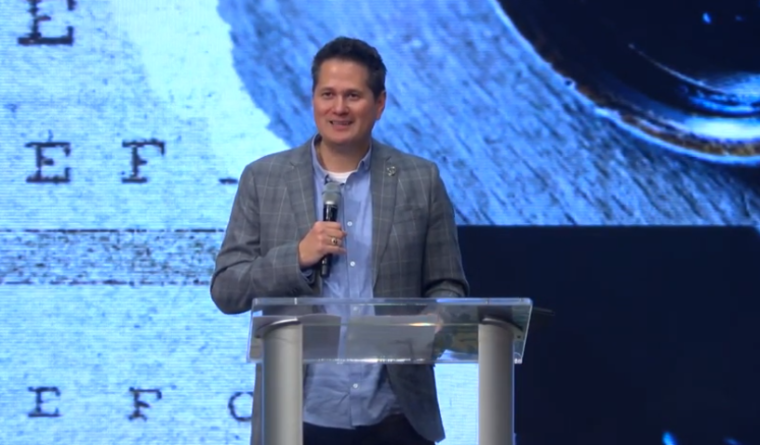 Despite once expressing no objection to sealing records pertaining to a child sex solicitation charge against Rock Church International Pastor John Blanchard, the Chesterfield County Commonwealth's Attorney's Office in Virginia now opposes that idea as a special prosecutor considers whether the case should be reopened amid a cloud of controversy.
Blanchard was among 17 men accused of solicitation of prostitution after an online sting operation by police on Oct. 29, 2021. The married father of two was charged with solicitation of prostitution of a minor and use of a vehicle to promote prostitution, which are felonies. He was arrested at a hotel where he was supposed to meet a detective posing as a 17-year-old girl.
After almost a year of legal maneuvering, however, the charges against Blanchard were withdrawn or nolle prossed ahead of a criminal trial in October. A case that is nolle prossed means prosecutors could potentially bring those charges again.
A report from the Chesterfield County Police Department said Davenport cited a "lack of evidence" in not moving forward with the case against Blanchard.
Information recently released on Facebook by Republican state Delegate and attorney Tim Anderson, who represents the Virginia Beach area, shows that the case against the megachurch pastor was dismissed only after a discussion between Chesterfield County Commonwealth's Attorney Stacey Davenport and the pastor's defense attorney.
"Hundreds of pages of documents have been turned over to my office related to Stacey T. Davenport for Chesterfield Commonwealth's Attorney handling of the Pastor John Blanchard case," Anderson wrote.

"What we have learned, among other things, is that multiple public statements made by Chesterfield Commonwealth Attorney Davenport that the Blanchard case lacked sufficient evidence to prosecute is a flat out lie."
Emails cited from those documents by WTVR show that Assistant Commonwealth's Attorney Alexander Michev initially told detectives they did not need to attend a status hearing for the Blanchard case that was set for last October. 
On Oct. 11, 2022, the charges against the pastor were nolle prossed with no detectives present.
When a member of the police department whose name was redacted from the documents asked why the case was dismissed, Michev disclosed that Davenport had conversations with Blanchard's defense attorney, Noel Brooks. They reportedly agreed that Blanchard would do a psychosexual evaluation and sex offender-related counseling in exchange for tabling the matter.
According to The Meryhew Law Group, a psychosexual evaluation is "a very effective tool" for helping those accused in cases of sexual misconduct.
It "is a systematic assessment of a client's social and sexual history, deviant or paraphilic interests, and the risk of sexual reoffending in the future."
"The evaluation is intended to identify any particular treatment needs of the client, and to propose a treatment plan to meet those needs," the law group's explainer sheet states. "These specialized evaluations can only be performed by state certified Sexual Offender Treatment Providers."
However, the firm warns that such an assessment is "a subjective snapshot of our client's beliefs and attitudes at a particular point in time."
Chesterfield County Police Chief, Col. Jeffrey S. Katz spoke out in January after Blanchard's attorney filed a motion to "seal all police or court records, transcripts, and investigative records associated with this case" and "has decided to consent to render these records unavailable to the public."
Upon approval by a judge, rendering the records unavailable would "make sharing of these transcripts, the report, or any other documents, previously released under FOIA a crime."
Katz called the move "bewildering," mainly because his investigators have presented cases with less compelling evidence that led to a conviction.
"When someone: 1. Rents a car, 2. Texts a phone number posted on a known sex worker website, 3. Solicits a 'qv' ('John' lingo for a 'quick visit'), 4. Makes multiple inquiries if the person he's texting is 'affiliated with law enforcement,' 5. Drives two and a half hours to a hotel and knocks on the hotel room door — as directed by our undercover '17-year-old,' I believe a jury of Chesterfield County residents deserves to weigh in on the matter of criminal culpability," he wrote.
Davenport eventually agreed to have a special prosecutor appointed to review the case after public backlash and the receipt of new information.
While she did not reveal the new information, an email that Katz reportedly sent to Davenport on  Jan. 17 suggests it could be a video obtained through a search warrant that "incontrovertibly validates police assertions that Blanchard knowingly sought to engage in sex with an underage girl in a Chesterfield County hotel room on the day of the arrest."
Attorney William R. Blaine, Jr. was named earlier this month as the special prosecutor to review the case.
"Many more revelations have been discovered. But most important Chesterfield County Police Chief, Col. Jeffrey S. Katz statements that the case was solid have been internally confirmed true," Anderson argued earlier this month. "Unfortunately more questions than answers have now been raised. Why did the Commonwealth Attorney agree to seal and erase the records? Why is the Commonwealth Attorney covering for this guy? Why did the Commonwealth Attorney lie, on multiple occasions, that the reason the case was dismissed was due to lack of evidence?"
A police department member, whose name is redacted in the FOIA response, asked Michev why the case against Blanchard was nolle prossed, according to emails cited by WTVR. Michev stated that Blanchard had a "built-in defense." The pastor alleged that he was driving and did not see the text message informing him that the person was 17.
Michev said a misdemeanor charge was not pursued because "we wouldn't get anything out of a misdemeanor conviction." The two parties "agreed to disagree" about the decision.