Pastor Benny Hinn's Son Detained for Allegedly Beating Man at Brazilian Crusade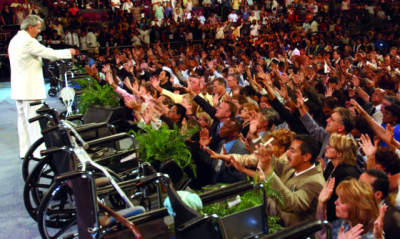 The son of charismatic Christian evangelist Benny Hinn was detained along with two bodyguards employed by the ministry for allegedly assaulting a deaf and dumb man during an evangelistic event in Manaus, Brazil.
The Daily Mail reported Monday that 21-year-old Joshua Hinn, Caleb Shirk, 26, and Konstantins Konstantinovs, 34, apprehended Hestephenson Araujo as he approached minister Hinn during his sermon with a bottle of water. Araujo had reportedly attended the miracle healing crusade on Saturday at the Provos da Amazonia arena in hopes of getting a blessing from Hinn, who claims to have an "anointing," or special power from God, that gives him the supernatural ability to heal people.
Hinn, Shirk and Konstantins allegedly grabbed Araujo, 21, whom they thought was going to throw water at the minister. They are accused of taking the deaf and dumb man to a trailer where they interrogated and beat him, the Daily Mail reports. Araujo was eventually rescued by police, who had been called to the arena by "concerned members of the public."
Although the three men were detained on suspicion of torture, no charges were filed. They reportedly told police they did not know Araujo, who was treated at a hospital for his injuries, was unable to hear or talk.
Araujo's father claimed he made a deal with Benny Hinn's representatives to refrain from pressing charges allegedly in exchange for a "large sum of money," the Daily Mail reports. However, local authorities reportedly plan to continue investigating the alleged attack on Araujo.
Joshua Hinn and the ministry's two body guards left the country without incident and returned to the U.S. on Sunday, which was the final day of Benny Hinn's miracle healing services in the South American country.
Hinn, who is reportedly worth $42 million, has become known throughout his 36-year ministry career for his Holy Spirit Miracle Crusades and Worship Celebrations in which he promises to heal those suffering from various physical ailments. Hinn's services, free to the public and held all over the world in stadiums and arenas, are often filled to capacity and usually marked by the evangelist waving his hands before large crowds to deliver a purported healing.
The ministry's tour in Brazil was scheduled to run from Feb. 11-17, according to a news release on its website that claimed many attendees had been healed.
"I believe what we are seeing is a foretaste of what is going to happen in the coming days," said Pastor Hinn in a statement shared on Feb. 13. "It's so wonderful to be here with the lovely people of Brazil. An amazing revival is sweeping over this nation. We are witnessing God's power in an amazing, historic way that I haven't seen in years!"
In addition to Hinn's healing claims coming into question, the 60-year-old minister was included in a 2007 Senate investigation into the financial dealings of several high-profile prosperity, or health and wealth preachers. Hinn voluntarily divulged his financial information as requested, and claims that he was recognized by the U.S. Senate Finance Committee for "[engaging] in open and honest dialogue" and for "[providing] information over and above what was requested."
The Christian minister previously announced that he and his former wife, Suzanne Hinn, had reconciled and are planning to remarry after divorcing in 2010 due to irreconcilable differences. They have three daughters, in addition to Joshua Hinn.
Benny Hinn Ministries' headquarters and the minister's World Healing Center Church are located in Grapevine, Texas. The ministry could not be reached for comment.