Pastor collapses with cardiac arrest at wedding, hero EMT saves his life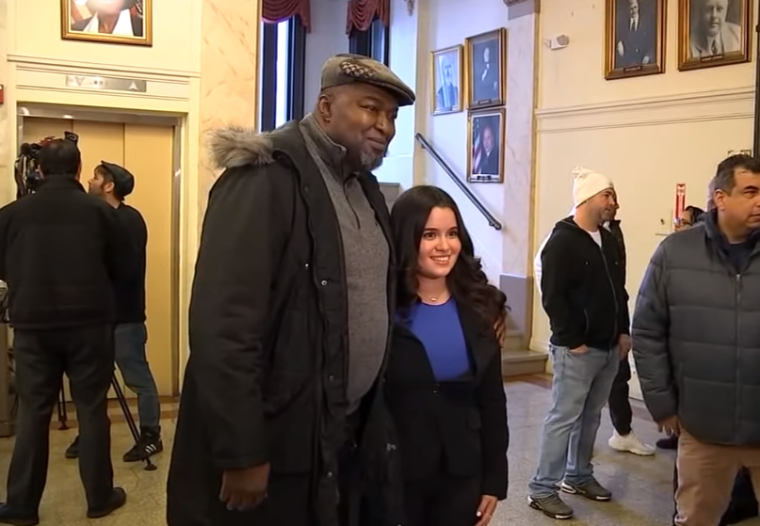 A pastor who collapsed after a cardiac arrest while presiding over a wedding in New Jersey survived the ordeal thanks to the efforts of an off-duty EMT who sprang into action as they waited for an ambulance to arrive.
Pastor Anthony Palmer of Empowered Life Church told northjersey.com that he remembers presiding over the wedding of the unidentified couple on Dec. 29, then waking up in the hospital.
"I said it would require patience, love, kindness, and then I passed out," Palmer told NBC4 New York.
And when he passed out, 22-year-old EMT Valeria Franco, who was working at the wedding as part of a catering team, tapped into the skills she generally uses at her day job.
"We heard something fall; we were all in a separate room and were a little confused," Franco told ABC 7.
Franco's mom, Brenda Franco, who was also working with her at the event, urged her daughter to help as shocked wedding guests called 911.
"I was like Valeria, 'go, run, do, it's your thing, they're waiting for you,'" Brenda Franco said.
Palmer's cardiac arrest came just days before Buffalo Bills safety Damar Hamlin suffered a cardiac arrest that caused him to collapse during a game against the Cincinnati Bengals on Jan. 3. The quick response of medical professionals on the scene was critical in keeping Hamlin alive in a story that has captured the attention of fans across the country.
Acknowledging how crucial Franco's EMT skills were in keeping the pastor alive as emergency services took a long time to reach Palmer, Paterson City Hall honored her at an event on Tuesday where she reunited with Palmer for the first time since the wedding.
"SHE'S LITERALLY A LIFESAVER! One week before Damar Hamlin collapsed and went into cardiac arrest on the football field, Pastor Anthony Palmer went into cardiac arrest while officiating a wedding in Paterson. Thankfully, an off-duty EMT was working with a catering company at the event and was able to perform CPR on the Pastor," Paterson Mayor Andre Sayegh wrote on Facebook Tuesday. "Her valiant efforts helped save his life. Please join me in saluting Valeria Franco for her heroism."
Palmer told ABC7 that even though his doctor told him to avoid any excitement, he attended the ceremony honoring Franco.
"I wouldn't be here today if it weren't for your service," he told her.
Franco said she had been scheduled the day of Palmer's cardiac arrest to work her regular schedule with the Woodland Park rescue squad, but her plans changed due to a delayed call. She, however, believes that providence had a hand in helping her to save the pastor's life.
"You're where you were supposed to be for a reason," she said.
Paterson Public Safety Director Jerry Speziale said at the event that society frequently applies the term "hero" to describe athletes and artists, but "true heroes" like Franco "perform their jobs with unsung valor."