Blackburn Left Home Unlocked Then Returned to Find Wife Nude and Dead, Says Court Doc
Shortly after he returned home from the gym to find his pregnant wife nude and dead in the living room of their Indiana home two weeks ago, Resonate Church Pastor Davey Blackburn told police he had left their front door unlocked.
Details revealed in a copy of the affidavit of probable cause against his wife's alleged killers who gained entrance to his home through the unlocked front door, further revealed that the pastor stood in his driveway talking on the phone to a friend for approximately 50 minutes after he arrived from the gym oblivious to the fact that his wife was dying as he spoke.
"At 8:22 a.m. Nov. 10, David Blackburn called 911 reporting that he found his wife, Amanda Blackburn, injured and unconscious on the living room floor of their home at Sunnyfield Court," said the court document.
Amanda was shot in the head, left lower arm and the upper back.
David Blackburn later told investigators that "he left his home around 6 a.m. in his black 1997 Honda Civic to work out at L.A. Fitness." He also noted that he "left the front door unlocked when he left."
He then left the gym at approximately 7:10 a.m., and was talking with a friend on the phone.
The grieving pastor told police that when he arrived home at about 7:30 a.m. he stayed on the phone in the driveway until he around 8:20 a.m. when he entered his house.
Amanda was face down in blood on the living room floor. She was also nude with her panties next to her and her shirt pulled "up as if someone tried to pull it off; however, it was not clear Blackburn had been sexually assaulted," said the affidavit.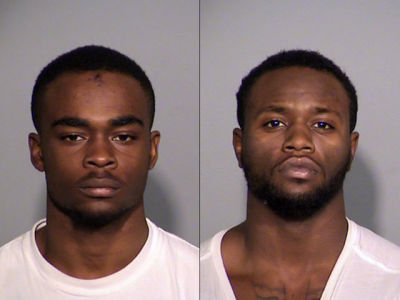 While earlier reports had indicated that Amanda was also sexually assaulted, Marion County Prosecutor Terry Curry did not file any sexual assault charges against the 28-year-old mother's suspected killers, Larry Jo Taylor Jr., 18, and his accomplice, Jalen Watson, 21, on Monday.
The murder case has attracted national attention with some media personalities casting doubt on Blackburn's innocence despite police quickly ruling him out as a suspect.
When asked by Megyn Kelly of Fox News' "The Kelly File" during a Nov. 12 segment of the show, former Westchester County, New York, District Attorney Jeanine Pirro speculated that Amanda's death could have been a murder for hire and said she would "absolutely not" rule him out as a suspect.
"He was in the gym that morning at or around the time that she was shot. That doesn't rule out the possibility of the police looking at murder for hire. It also doesn't rule out the fact that they have to now look at was he always going to the gym? Is the gym something that he just recently started? What about Facebook, Twitter, email, finances, telephone records? You know there is a lot more than this and then police always have a reason for saying what they say," said Pirro.
On Monday, however, megachurch Pastor Perry Noble of NewSpring Church in South Carolina, where Davey Blackburn worked as a campus pastor before starting resonate church, called for Fox News, Kelly and Pirro to apologize.
"I really do hope and pray that Megyn Kelly, Jeanine Shapiro (sic) and Fox News will strongly consider issuing a public apology for the report that was aired on Thursday, Nov. 12 on 'The Kelly File' where Davey's involvement was called into question and essentially his name was dragged through the mud — which all led to a book promotion," he wrote.