Pastor Davey Blackburn on Pregnant Wife's Murder: Forgiveness Is Not a Feeling, but a Daily Decision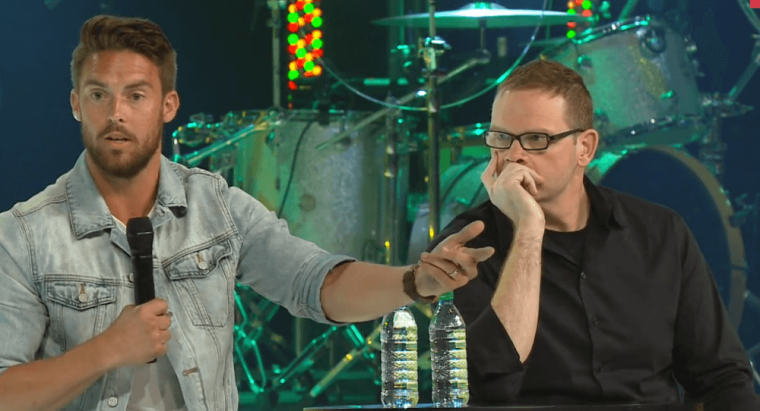 Pastor Davey Blackburn, whose pregnant wife, Amanda, was brutally murdered in a home invasion six months ago, sat down with Pastor Perry Noble at NewSpring Church this past weekend to share about what life has been like since that tragic day he lost his wife and unborn baby.
Noble, who is lead pastor of NewSpring Church in South Carolina, hosted a discussion with Blackburn as part of his "You've Got What It Takes" series, saying that Backburn's heartfelt story serves as an incredible example of faith and perseverance.
When Noble asked Blackburn if he has forgiven the three men who took Amanda's life – Larry Jo Taylor Jr., 18; Jalen Watson, 21; and Diano Gordon, 24 – the church planter responded by saying: "that's a complicated question."
Blackburn says that while he was initially waiting to feel forgiveness, he realized that if he kept waiting, such feelings may never come.
"Forgiveness is a daily decision," the young pastor says, adding that he "forgave [Amanda's attackers] yesterday [..] but tomorrow morning I'm going to have to wake up and I'm going to have to choose to forgive again."
Blackburn, founding pastor of Resonate Church in Indianapolis, Indiana, adds that he believes a part of God's master plan through this grief is having him minister one day to the three young men who took his wife's life.
On the morning of November 10, 2015, Blackburn came back home after going to the gym to find that his 28-year-old pregnant wife, Amanda, had been shot three times during a home invasion.
Since the tragic accident that took Amanda's life, Blackburn has experienced feelings of grief, suffering, grace and forgiveness, he told Noble during the recent talk, held last Sunday.
"The way I'm seeing the Lord lead this whole thing […] I honestly believe that part of my story is going to be one day looking these men in the eye and sharing the gospel with them," Blackburn says.
"Imagine if these guys met Jesus […] imagine how impotent that renders the enemy," the pastor adds.
Blackburn, who is now a single father to their 21-month-old son, told Noble that out of all of this grief, he believes God has an ultimate plan that will make everything that has happened make sense.
The church planter referenced a recent trip he took to Israel, when he had a moment with God in the Garden of Gethsemane, where he realized "everything that God gives us in life is everything we would ask for if we knew everything he knows."
Although Blackburn says he can drive himself insane thinking about the last torturous 45 minutes of Amanda's life, he believes that ultimately she was able to meet with God and see his grand plan in light of all the suffering and evil that occurred.
"Whatever happened to Amanda […] whatever was done to her, when she stepped into eternity, was completely undone," Blackburn told Noble, adding that his wife was able to "see the end of the story" with Jesus.
"I fully believe she looked Jesus in the eye and goes 'Jesus that is brilliant,'" he added.
Blackburn and his wife had originally been on staff at NewSpring Church before they made the decision to plant their own church in Indianapolis back in 2012.
Reflecting on when he first met Amanda, Blackburn told Noble that he fell "hard and fast" for his wife, especially due to her undying love for God.
"I met a girl who radiated Jesus' love. She honestly, more than anybody I'd ever met, loved Jesus more than anything else in life," he said.
Following his wife's death, Blackburn tells Noble that along with believing in God's plan, he also takes comfort in the fact that Amanda surrendered herself to Jesus a long time ago and fully trusted in His will for her.
Blackburn adds that this harrowing experience has also changed his perspective on pain. While he initially saw pain as an interruption to his story, he now realizes that pain can be an invitation into a greater story.
The young pastor told Noble that following Amanda's death, he repeatedly looked back to Psalm 23, especially the verse that discusses walking through the valley of death.
Although Blackburn originally saw the "valley of death" as punishment, he now sees it as an opportunity for strength.
"Maybe God leads us into the valley of the shadow of death, and if he leads us to it, he walks us through it," Blackburn says.