Pastor Ed Young Jr. Interviews Quarterback Tony Romo; Poses 'The Quarterback Question' to Congregation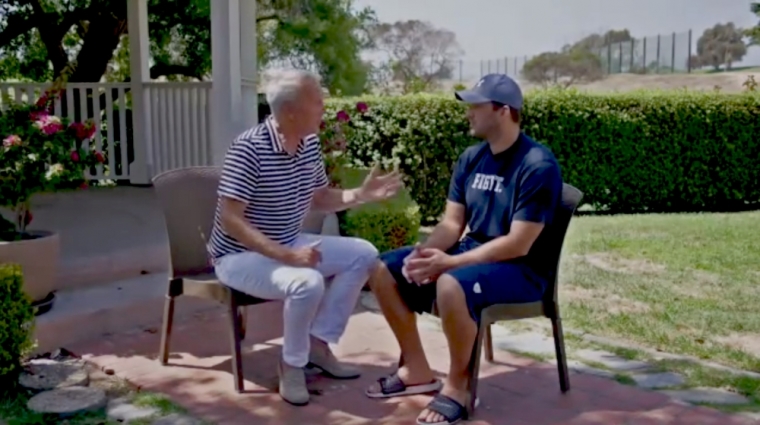 Texas megachurch Pastor Ed Young Jr. interviewed Dallas Cowboys quarterback Tony Romo, asking him how he became a Christian, as part of a new sermon series called "Quarterback," which introduces "The Quarterback Question" that all Christians must ask themselves.
"How do you deal with haters?" asked Young, Senior Pastor of Fellowship Church in Grapevine, Texas, in a one-on-one conversation with NFL player Romo, who is a Christian.
"Whether they say good or bad thing, it actually doesn't affect my life… It's not going to define you unless you allow it to," replied Romo.
The quarterback also said he tells the Lord he's just going to play, and does not see every game as the most important moment of his life. That gives him peace, he said. "I just give it to the Lord… He has control."
Asked how be began to believe in Jesus, Romo said, "I grew up in the church a little bit, in a Sunday school. But I had never known like, how to give yourself over to the Lord... You could say, I never thought deeply about it than just Sunday schools, churches. And Jesus was Santa in some ways."
After Romo went up to college, he saw a few people talking about the Bible and felt that "I kind of want that… the freedom, the peace, just the ability to kind of be at ease when life goes crappy, when it goes good."
But the life is not what you might expect to be after becoming a Christian, the quarterback cautioned. "If you think you're never gonna sin again because you've come to the Lord," that's unrealistic, he said. The truth is that you do fail and sin, but you always come back to the Lord. "You don't run away from Him but you run to Him."
Pastor Young screened the interview in his church as part of his Sunday sermon. The Fellowship church will also feature similar interviews with NFL players Troy Aikman and Ryan Tannehill.
Imagine what it would be like if Tony Romo was part of your team and you asked him to play center, Young told the congregation as he began his sermon. "How ridiculous is that."
The pastor preached from the story of the rich man who came to Jesus to ask what he must do to have eternal life, as found in Mark chapter 10.
When Jesus referred to the Ten Commandments, the man said he had been following God's law. Then Jesus asked him "the quarterback question," one thing you lack, Pastor young said. "Go, sell everything you have and give to the poor," the pastor quoted Mark 10:21.