Nearly 30,000 Harvest Crusade Angel Stadium Attendees; Pastor Greg Laurie Says Happiness Is Not a Lost Cause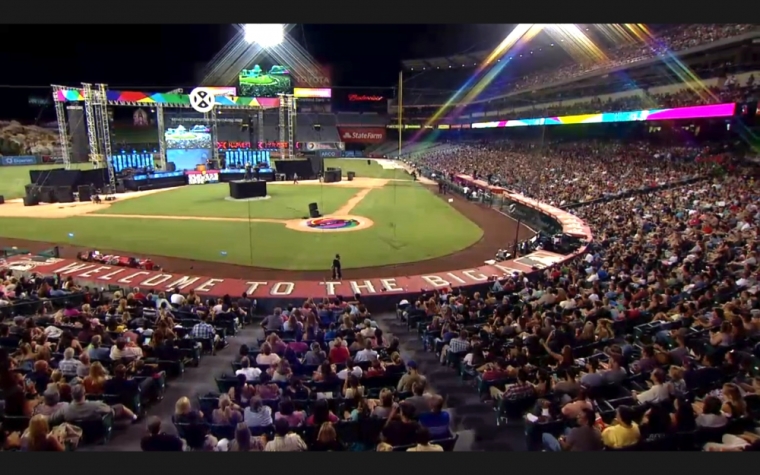 As tens of thousands of Californians filled Anaheim's Angel Stadium for the Southern California Harvest Crusade 2015 on Friday night, pastor and evangelist Greg Laurie delivered the event's first nightly message, sharing how happiness can be experienced through our creator, who is "a happy God."
"Deep down inside, everybody wants to be happy. In fact, God prewired us that way," Laurie, the founder of Harvest Crusades, told crowd in his message, which followed worship songs by the Christian bands THIRD DAY, Citizens & Saints and Phil Wickham.
According to the Harvest team, 29,000 people attended in the stadium and another 29,368 people attended online. There were 2,353 professions of faith.
Laurie asked how can we experience happiness. Not the way many think. "I hope everyone can get rich and famous and have everything they ever dreamed of, so that they'd know that's not the answer," Laurie quoted comedian Jim Carrey as saying.
Sharing many other such examples, Laurie said we might wonder if happiness is a lost cause. But it's not, he added, explaining that the Bible tells us everything we need to know about being happy as well as about God and how we can get to heaven.
"The Bible teaches us that God wants us to be happy, but we need to go about it in the right way," the pastor of the Harvest megachurch said.
He quoted Proverbs 27:20, "Hell and destruction are never full; so the eyes of man are never satisfied." He suggested that physical needs alone can never give us satisfaction and happiness. "You need Jesus, that's the answer."
Laurie said he knows, despite being a preacher, that "sin is fun." This is why we sin, but as the Bible says, it brings pleasure "for a moment." And then there are repercussions, he said. "You have to face the consequences of what you've done… Sin comes to haunt you."
Real happiness can come with a relationship with God alone, Laurie stated, adding that "the Bible says, 'Happy are the people whose God is the Lord.'"