Pastor Greg Locke Reveals His Church Has 'Dozens and Dozens' of 'Precious' Black Members, Calls Racist Churches 'Despicable'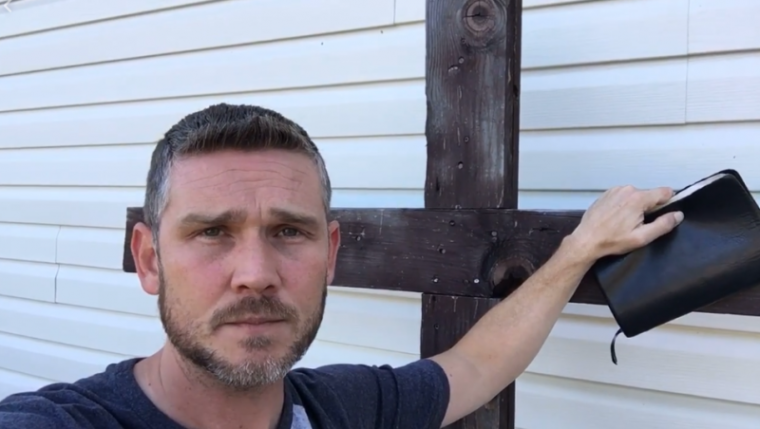 Popular internet preacher and leader of Global Vision Bible Church in Tennessee, Greg Locke, proudly revealed Monday that his church has "dozens, and dozens and dozens of precious black folk" and ripped into churches that practice racial discrimination as "despicable."
Locke revealed in a viral video that he was recently checking the church's mailbox in Mount Juliet when a black man drove up to him and asked if black people are allowed in his church and he was "floored" that the man would have to ask a question like that.
"He said ... 'Can I ask you a question?' I said 'Yes, sir, you can.' He said, 'You allow black people to come to this church?' And to be honest with you I was a little floored by the question and I said 'Yes, sir. We have dozens, and dozens, and dozens of precious black folk in our church.' I said 'We are Global Vision, we have all different backgrounds and races, ethnics and cultures in our church.' I said 'You are more than welcome. We would love to have you and your family anytime,'" Locke explained.
"Then he said this: 'We've had a hard time in this area finding a church where we can fit in. We just don't seem to think people want us there,'" Locke continued before he denounced the churches that would make the black man and his family feel unwelcome.
"I'm telling you that's despicable. You know the Bible talks about the fact that racism is so evil, so wicked. And the fact that that dear gentleman would even have to ask on behalf of himself and his family if a black man could come to a church with a white pastor, that's absolutely disgusting. I want you to know ladies and gentlemen that red and yellow, black and white they're all precious in His sight," Locke said in the video that had garnered more than 6 million views as of Thursday morning.
"Any church, you hear me, any church that would ever be selective in the type of people that it ministers to, ought to close down because it's a coffee-drinking social club. It's not a local church. The local church is for everybody. The Gospel is for everybody, it's not an exclusive club. Go into the world and preach the Gospel to every creature," he said pointing to Scripture.
Earlier this month, Locke, who shot to internet fame after he posted a video on Facebook on April 22, 2016, criticizing Target for its new policies on gender-neutral bathrooms, admitted to his more than a million followers that he had divorced his wife and had been going through a difficult time.
While some critics have called for him to step down from his position as pastor because of his divorce, Locke said he has the support of a majority of his church members who want him to remain in the pulpit.
"We have been working on some real mental and emotional heartbreak for a very, very long time and that's a difficult reality," he said of the relationship between him and his now ex-wife, Melissa.
"But our church doesn't want me to resign and step down. There is no sin in my life. I'm not an adulterer," he explained with tears streaming down his face.