Pastor Greg Locke Calls Las Vegas Shooting 'Terrorist Event'; Investigators Look Into Whether Gunman Was 'Radicalized'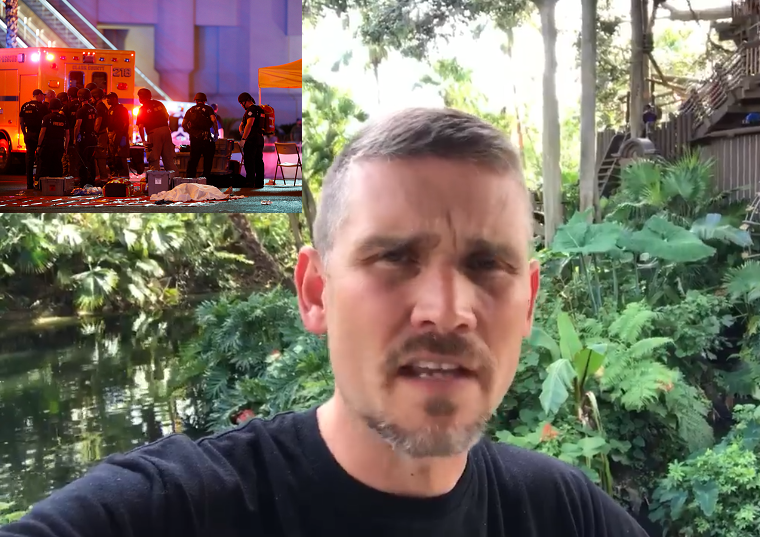 As U.S. law enforcement officials and the White House hesitated to call Sunday's mass shooting by 64-year-old gunman Stephen Paddock an act of domestic terrorism earlier this week, outspoken internet star and pastor Greg Locke quickly declared it an ungodly "terrorist event."
"What happened was a terrorist event. It was wicked, it was ungodly and I strongly condemn it," Locke, who is the lead pastor of Global Vision Bible Church in Tennessee, said in a video statement posted to Facebook on Monday.
When asked that same day if President Donald Trump considered Paddock a terrorist, White House Press Secretary Sarah Huckabee Sanders said it was "premature" to make that statement.
"We're still on a fact finding mission," she said. "This is an ongoing investigation. It would be premature to weigh in on something like that before."
At a press conference on Tuesday, however, Clark County Sheriff Joseph Lombardo told reporters that he was looking into whether Paddock had been "radicalized."
"I want to understand the motivation that you described, OK, to prevent any future incidents, and, you know, did this person get radicalized unbeknownst to us? And we want to identify that source," Lombardo said.
Security officials told The New York Times that Paddock, a retired accountant, smashed the windows of his suite on the 32nd floor of the Mandalay Bay Resort and Casino with a hammer and fired at a crowd of 22,000 people who were attending the Route 91 Harvest Festival about 400 yards away. The festival was a three-day open air country music event, according to CNN. At least 59 people were killed and another 527 injured by gunfire or while running to safety, police said.
The shooting, described as the worst mass shooting in U.S. history, has since sparked an ongoing political debate about gun control and who gets labeled a "terrorist."
Moustafa Bayoumi, a Brooklyn College professor and author who specializes in postcolonial literature and theory, said America plays a double standard in how they define people as terrorists.
"We have a double standard in the United States when it comes to talking about terrorism. The label is reserved almost exclusively for when we're talking about Muslims," wrote Bayoumi.
"This is all the more remarkable because Paddock's actions clearly fit the statutory definition of terrorism in Nevada. That state's law defines terrorism as 'any act that involves the use or attempted use of sabotage, coercion or violence which is intended to cause great bodily harm or death to the general population,'" he said.
In his statement on Monday, Locke urged Americans to unite in the wake of the tragedy rather than be divided by politics.
"Thank God for the heroes. I'd be the first to tell ya, as a bold pastor that is very publicly outspoken, it would be easy for me to say a few things in a super charged political matter but I'm not going to because we need to let people grieve," he said.
"This is not a time to cast blame. This is not an us and them, ladies and gentlemen. Americans must unite and we must come together. I'm still a firm believer that in the midst of depravity and darkness and the debauchery and the violence around us, we can still unite and very much come together in love and in compassion for our fellow human beings," he continued.
"I believe with all of my heart that in these difficult days that lay ahead, there is hope. There is a glimmer of light. Americans, let's quit complaining about what doesn't matter and come together and offer this world hope. Because without hope we have nothing but chaos and I'm a strong believer that we don't need more chaos but we need a whole lot more hope."