Pastor Jamal Bryant Breaks Silence on Baby Controversy: 'God Ain't Finished With Me'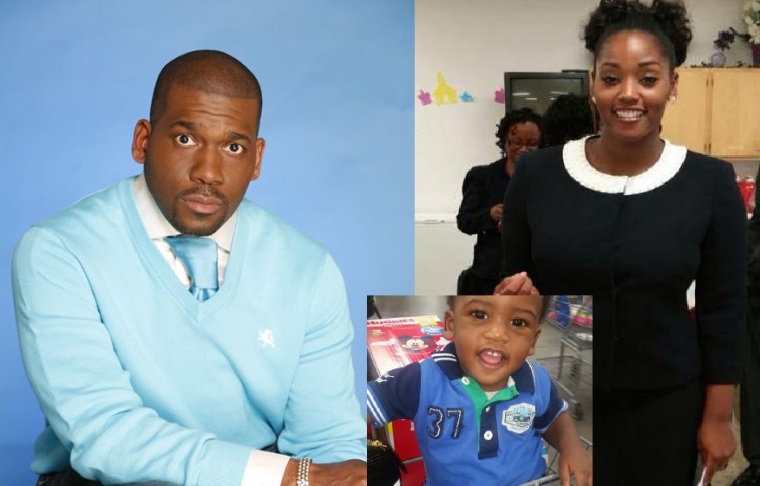 The Rev. Jamal H. Bryant, leader of Northwest Baltimore's Empowerment Temple Church, said his lawyers have advised him not to give any details on recent allegations that he fathered a child out-of-wedlock but declared, however, that: "God ain't finished with me."
Earlier this week Latoya Shawntee Odom, a 34-year-old California woman, alleged in a salacious and exclusive report from Obnoxious Television that she engaged in a sexual relationship with Bryant which resulted in her getting pregnant. Bryant allegedly asked her to abort the pregnancy but she refused and gave birth last July to a boy named John Karston Bryant, according to official documents cited in the report.
Addressing the issue for the first time since the allegations came to light, Bryant revealed in a Periscope session with his followers on Thursday night that his lawyers advised him not to share any details with the public.
"Over the last week, a lot has been said and a lot has been suggested and like you I was thrown into a tailspin. I had to shut down for a minute so that my response would not be that of a man but be priestly as a man of God. To that end, let me say to you I am one of those rare people who are flawed with character. That with all of my issues I don't run from them I stand right next to them," Bryant began on the controversy.
"Those of you who have been with me you are fully aware that some eight, nine years now, I went through a divorce and claimed all of it my responsibility. The worst mistake you can ever make is to repeat the exact same mistake," he said.
Bryant doesn't confirm or deny the allegations that 10-month-old John Karston Bryant who was born on July 7, 2015 is indeed his biological son.
Odom presented documentation of a paternity test carried out by LB Genetics that suggests Bryant is 99.9999 percent the father of her child.
"The alleged father, Jamal Harrison Bryant, cannot be excluded as the biological father of the child, John Karston Bryant, since they share genetic markers….The probability of paternity is 99.9999%, as compared to an untested, unrelated man of the Black population," noted the test results signed by Karl-Hans Wurzinger and certified by notary public Oma Marquez Lopez.
Bryant said because the allegation are now part of a legal discussion he was unable to say anything about it, He said, however, that he will not run from his problems and will be standing on God's grace.
"The last time I went through something, I shut down, wouldn't talk to anybody, tried to in fact deal with it all by myself but I understand that there is strength in numbers. The issues, pertaining and surrounding the allegations are in the middle of a legal discourse that preclude me from going into any depth to talk about it. But let me say to you, while many things have been said about me, running is not one of them, I stand on God's word that he is my battle ax and my (sic) butler and I bear witness His grace is sufficient and his mercy endures," Bryant said.
"My legal counsel says I cannot go through any depth talking about it but there is nothing that can stop me from talking to God. When there is something to be said you will hear it directly from me, you will not have to look for a secondary source. So I wanted to say to you in no uncertain terms, thank you for your prayers, thank you for your support but I also want you to know that His rod and His staff, they comfort me," he continued.
He also warned that he will not be discussing the allegations in church on Sunday.
"Keep praying for me and I'll keep praying for you. I wanted to come on tonight so there will be absolute clarity – Sunday morning is to discuss Jesus, it is not to talk about Jamal. So when you come to church, get ready to talk about how great God is. And not the frailty of what Jamal possesses. Love y'all but I declare that God loves all of us best. Let me say to you in closing in case nobody told you, prayer still works," he said.
Bryant, during the discussion, also said he felt a need to pray and delivered the following invocation:
Lord I pray for every person that is in the middle of something uncomfortable, it will not make them undone. I thank you dear Lord that the enemy's attack will not make them defensive but to rest in you. God, I give you glory in taking absolute delight, this battle is not mine, it's not theirs but it's completely yours. Thank you that the race is not given to the swift or to the strong but to those that endure to the end. We are reminded even though we never quote it, that if we suffer with you, we'll be able to reign with you. I declare it because of the victory after the agony that was felt on the cross. That the worst is behind and the best is yet to come. I believe it for myself and I believe it for every single one of you. Trouble don't last always, the enemy will only try to use it if you hide from it. The Lord asked of Adam, who told you, you were naked? And he could never respond, don't let anything or anybody strip you. Stand boldly before him and declare, it's not my mother, it's not my father but it's me oh Lord and I'm standing in the need of prayer.
Bryant then asked his followers to keep praying for him because he needs it.
"Keep praying for me because unlike others, I actually need it. I appreciate it and I receive it. God ain't finished with me. But when he gets through working with me I shall come forth standing right beside you," he said.