Pastor Jamal Bryant Says He Was Shocked by Ambush, Verbal Assault From Activist PFK Boom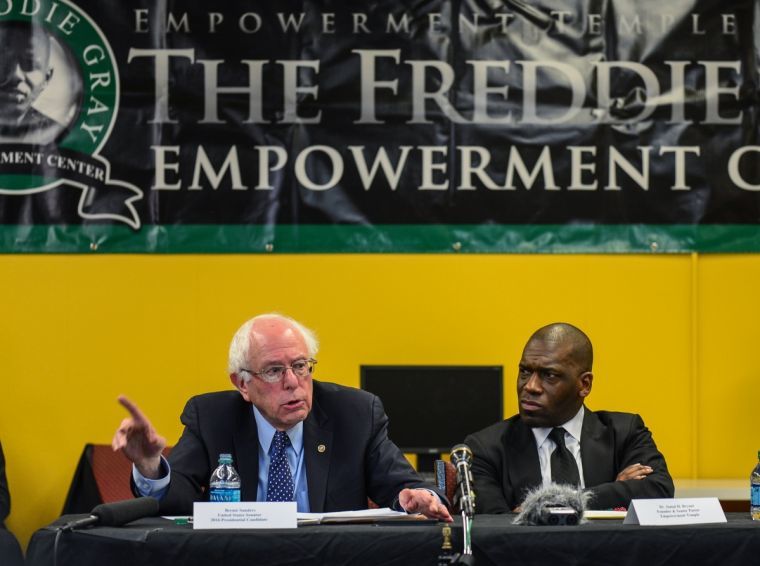 Pastor Jamal Bryant of Baltimore's 12,000-member Empowerment Temple Church said he was caught off-guard and without his usual entourage when he was ambushed and told to get out of Baltimore by activist PFK Boom during a community rally last Wednesday.
Boom, whose real name is Davon Neverdon, is co-founder of a group called "300 Gangstas," which seeks to reach the most dangerous people in the city of Baltimore.
Neverdon is captured in a now viral video posted on YouTube telling Bryant to take his henchmen and get out of Baltimore. The incident took place during the 148th staging of a weekly event called West Wednesday, organized by the family of Tyrone West, who died in a struggle with police officers during a traffic stop in July 2013.
"I know you can take your henchmen…get the henchmen, don't come down here no more. Boom said it. Me as a man. The streets don't want you here," shouted Neverdon at Bryant, as the Baltimore minister meekly agreed to the demand.
"Don't bring your a** down here no f**king more. I mean it yo. On my f***ing kids yo. You's a f**king disgrace. A guardian angel…? For who? Cause you damn sure ain't guarding me…," said Neverdon further mocking a T-shirt Bryant was wearing with the words "Guardian Angel" printed on it during the encounter.
"Get the f**k up outta here. F**king clown," he finally slammed the pastor as he turned around and walked away with the words EMPOWER blaring from the back of his T-shirt.
Neverdon, who was arrested and ultimately acquitted of murder in 1993, has spent more than three years in solitary confinement. During the recent confrontation, he browbeats Bryant over what he deems as the pastor being opportunistic in his decision to appear at the rally, which has been taking place weekly for three years, for the first time.
The description on the YouTube video capturing the tense exchange said in part, "Why did Jamal Bryant finally show up to a West Wednesday after dodging and disrespecting the West Family for the last 3 years? Where was he when the family of Tyrone West first asked him to help? What happened that time Tawanda Jones (Tyrone West's sister) and Abdul Salaam were supposed to speak on a panel at Bryant's church during the Ferguson Solidarity protests in Baltimore in 2014, and he cut them from the program just minutes before it was scheduled to begin? Yeah, we still remember."
In an interview with WEAA 88.9 FM's Farajii Muhammad Saturday, Bryant explained that the encounter with Neverdon, whom he had never met before then, was a surprise. He said he had just returned from a trip in Nigeria when he decided to support the event.
"Farajii, you've been around me and see me that I go nowhere by myself. So I said, let me disrobe this whole megapastor motif, drive myself. You saw the video, I was not in any suit and tie…I stayed at the rally for over an hour and periscoped it," said Bryant.
"I went down as a pastor… I was the only pastor there. There were no cameras there. It was 40 people there and I went there again, not on program, not scheduled, just to be of support. And when I was leaving an hour and fifteen minutes later, I am accosted by the young lady who (rapped in the video at the end)," he said.
"She said to me 'are you leaving?' I said 'Yeah, I gotta go. I'm leaving at six in the morning, I need to leave.' She said 'OK, can you wait one minute?' Sure. Then she brings over the gentleman and without warning, he goes into a full barrage. It was an angry barrage," explained Bryant.
"In his speech, he says 'you all talk about us coming to the church but the church never comes to us and I'm there. The church becomes visible and tries to be a part. The rest of it plays itself out as everybody has seen now all over the media and I feel it is very unfortunate that people who are really working towards the same end would find themselves [at odds]," he continued.
Bryant maintains that he wasn't looking for a photo-op and said when he was approached by Neverdon, he initially thought he was coming to thank him for helping the community.
"In my own limited thinking, I'm thinking ok, they want me to be visible, they want me to be local, they want me to be hands on and in my mind, my coming is doing just that. None of them gave any redress that two weeks ago I gave them $5,000 for a gardening project. Again, no press release," said Bryant.
"I wasn't doing it for attention. I was doing it for real community building. So I had to make a decision in my mind, do I argue with this gentleman who clearly doesn't know…In my mind he's coming to say 'man, thank you. Because we didn't think that you would actually come. You would actually support.' But to come and say, 'No, you not welcome?'" said Bryant with a tinge of incredulity.
"Let's say I did nothing in the past, if I came that day to try to be a part, what message does that bring? And further, it gives even greater wedge for clergy to be dismissive and say that's why I don't get involved and it plays into the hands of real oppressors that would say, 'ok, if they'll push clergy out what in the world are they gonna do for Black Lives Matter?" he continued.
Bryant said although some onlookers might think he took personal umbrage at Neverdon's verbal assault, he said he was more concerned about the message it sends about the black community being able to work together for the common good.
"There were more white people at the rally than black people. So for that to happen in the backdrop, it was disheartening and unfortunate. So my greatest pain is not embarrassment for me but embarrassment for our community that even under different ideology that we can't work together towards a common goal and a common good," said Bryant. "I have more than enough access and opportunities but for the message to come out of Baltimore a year after the uprising that we can't work with each other is my greatest disappointment."
[WARNING: VIDEO CONTAINS STRONG LANGUAGE]