Pastor Jentezen Franklin tests positive for COVID-19, 'doing great'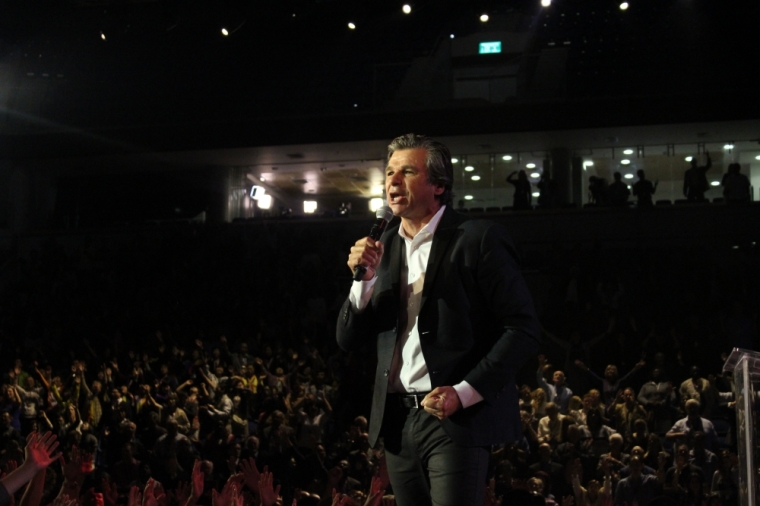 Jentezen Franklin, senior pastor of the multi-campus church Free Chapel in Georgia, tested positive for COVID-19 but is "doing extremely well," the church announced during the worship service Sunday.
Franklin wasn't in the church Sunday morning when Pastor Javon Ruff told the congregation that he had tested positive, 11Alive reported. The service was also broadcast live at the megachurch's six other campuses.
"We want to make you aware that Pastor Franklin has come in contact with COVID, but he is doing perfectly fine. He actually is doing great. He went and got tested and his test came back positive so he is doing the right thing to do and staying quarantined and continuing to be distanced. We'll continue to pray and lift him up," Ruff added, according to AJC.
"He wants you to know that he's doing great. We're going to continue to pray for him, but he's following the CDC guidelines," Ruff told the congregation.
Franklin, a New York Times bestselling author, apparently got the test results on Saturday, when Free Chapel posted on its Facebook page, "Tomorrow we're celebrating Christmas at Free Chapel! Join us for worship and a message from Pastor Jentezen – then after service, take a picture with Santa and grab a Christmas treat! We'll see you soon!"
The church has also announced that its Christmas Eve service will be online only.
On Sunday, the church wrote a post, saying, "We loved celebrating Christmas with you this morning, Free Chapel! … Don't forget: Our Christmas Eve service is online-only this Thursday at 5 PM. Grab your family, get a few candles ready, and join us for worship in the chat."
A church spokesperson was quoted as saying that Franklin's symptoms were mild.
Last week, Franklin, whose television program "Kingdom Connection" is broadcast each week on major networks all over the world, attended a White House Christmas party with his daughter, according to a picture shared on the pastor's Instagram page.
"Thank you @flotus and @realdonaldtrump for inviting us. It was gorgeous!" the post read.
In an op-ed for The Christian Post late last month, Franklin recalled that in the early days of the pandemic, when the church closed its doors for in-person worship, they were "unsure when we'd be able to safely gather together again."
"As the weeks rolled on, I experienced an emptiness I hadn't known before. It didn't take long to discover what I had too often taken for granted: fellowship and community," he stated. "This Thanksgiving, I'm certainly thankful for a number of things — breath in my lungs, my wife and children, my network of unwavering friends and mentors, and financial provisions. But it's what was missing for much of the year that I keep thanking God for over and over again these days."
In October, California megachurch pastor Greg Laurie, who attended the Sept. 26 White House nomination ceremony for Judge Amy Coney Barrett, also announced that he had tested positive for COVID-19 but has since recovered.