Pastor Paula White Hails Trump's 'Most Important Executive Order' That Americans Haven't Heard About
Pastor Paula White Hails Trump's 'Most Important Executive Order' That Americans Haven't Heard About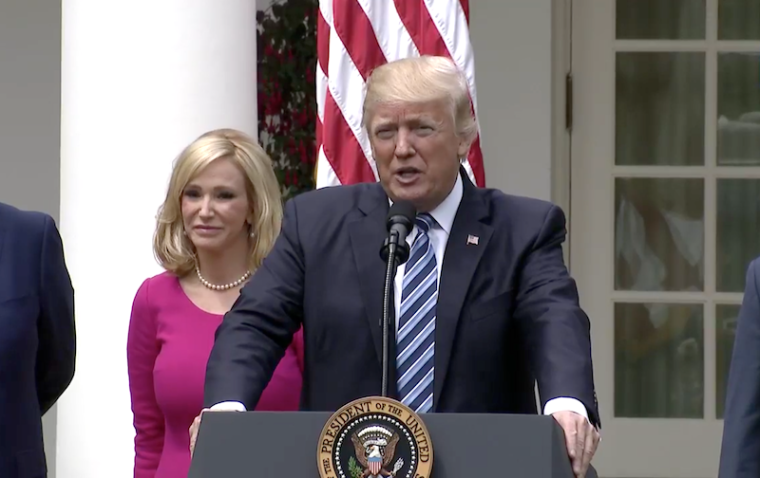 Pastor Paula White, who serves as Donald Trump's spiritual adviser, has identified what she called one of the president's "most important executive orders" that she says has received little attention from the American public.
White, who preaches at New Destiny Christian Center in Apopka, Florida, wrote in an op-ed for Fox News on Thursday that the order, "Reducing Poverty in America by Promoting Opportunity and Economic Mobility," was signed a month ago on April 10.
"The overarching goal is to help those Americans who have fallen out of the workforce once again find gainful employment, as well as ensure those who really need assistance are able to receive it," White wrote.
She said that the reason pastors care so much about this reform is because they are often "on the frontline of economic and financial hardship."
The evangelist used her own church as an example, explaining that it has a large population of new immigrants and minorities.
"We spend our days serving many of the people we often hear about in government welfare statistics," she said, such as single-mothers.
"As a pastor, I also see firsthand that financial hardship is often the result of some unforeseeable life event like a heartbreaking divorce, an illness or an accident, or even a death in the family," White continued.
"Nobody is immune — it's just life, and it happens to us all. But at church, we don't just help you when you're down, we also get to celebrate when that single mother finds a good job and achieves financial independence."
The pastor insisted that the executive order "prioritizes and promotes marriage and family as a way to escape poverty."
"This is another area where being a pastor gives me a clear-eyed view of the struggles experienced by everyday Americans. If there is an intact marriage or other family members around to help, people stand a much higher chance of achieving financial independence," she added.
"These relationships will now be given priority as a person's first and best option for receiving help."
Others, including Sonny Perdue, the U.S. Secretary of Agriculture, have also praised Trump's order, saying that it will help lift Americans from welfare to work, and from poverty to prosperity.
"At the Department of Agriculture, we are responsible for administering programs which help people access nutritious food for themselves and their families, but we also know that long-term government dependency has never been a part of the American dream," Perdue said in a statement back in April.
"Providing people with the training and skills they need to find gainful employment will help place them on the path to self-sufficiency and restore the dignity of work. It's the right thing to do for our people, just as it's the right thing to do for American taxpayers."
Some groups have criticized the move, such as First Focus, a left-leaning advocacy organization that describes itself as a bipartisan and seeks to make "children and families the priority in federal policy and budget decisions."
The group argues that the order will actually weaken public assistance programs, and will impose cuts, employment documentation requirements, "irrational time limits," and other bureaucratic barriers.
"Despite the claim of promoting family economic security, the harmful changes resulting from this order will have the opposite effect and weaken the effectiveness of these programs to support healthy child development and reduce child poverty," argued Bruce Lesley, president of First Focus.
"We know that in most low-income households with children, there is at least one family member who is working. Yet due to low wages, skyrocketing rents, and the high cost of everyday goods, parents still struggle to make ends meet and turn to key assistance programs to supplement resources for their families," he added.