Trump Convenes White House Meeting on Prison Reform; Evangelical Leader Encouraged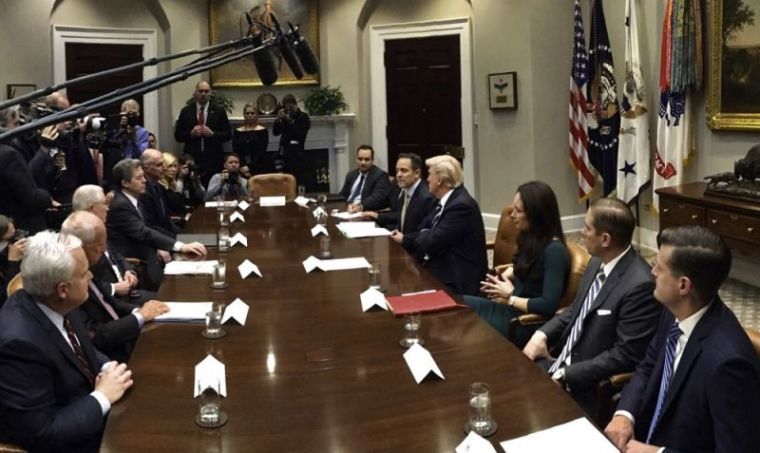 President Donald Trump hosted a roundtable discussion between top administration officials, evangelical leaders and state political leaders and activists at the White House Thursday afternoon, focusing on ways the administration can improve the nation's criminal justice system and prison re-entry processes.
As statistics show that about two-thirds of prisoners released in the U.S. are rearrested within three years, the meeting was convened by the president in the Roosevelt Room to talk about ways the federal and state corrections systems can equip rehabilitating non-violent prisoners with the skills and opportunities needed to help them successfully become productive and law-abiding members of society after they are released.
The meeting was attended by administration officials such as Attorney General Jeff Sessions, White House Chief of Staff John Kelly, White House Senior Adviser and Trump's son-in-law Jared Kushner, other administration officials, Kentucky Gov. Matt Bevin and Kansas Gov. Sam Brownback, Trump's nominee for ambassador at-large for international religious freedom.
"The administration is signaling that this issue is a priority. It's a bipartisan issue. It is a multifaith issue. It is an issue of justice and righteousness," Johnnie Moore, an informal evangelical adviser to the Trump administration involved in the meeting, told The Christian Post. "The administration is saying, 'We acknowledge all of that and we want to make a difference in this area.'"
Also in attendance for the discussion were Florida televangelist and Trump spiritual adviser Paula White, Ohio pastor and Trump supporter Darrell Scott, American Conservative Union Chair Matt Schlapp, Koch Industries Senior Vice President Mark Holden and Texas Public Policy Institute's Brooke Rollins.
"The fact that people of faith are at the table to begin with is a key indicator that the administration is acknowledging the unique role that the faith community can play in addressing what is a major issue in this country," Moore said. "Also, they are acknowledging the fact that for 2,000 years, caring for prisoners has been at the heart of our faith. That is what Christians do. Often times, prison ministries in churches lead to lower recidivism rates."
"This administration really believes in public and private partnerships," Moore continued. "This is an administration that when they talk about public and private partnerships, they are not talking about long contractual arrangements or even grants. It's about the administration saying, 'These are great organizations and these are best practices and we are going to take this bully pulpit and we are going to look out across the country and and ask churches and organizations to help prisoners re-enter society."
Moore said that prison ministries like Prison Fellowship will play a large role.
According to Moore, the idea for the discussion on the issue came about last May when Trump hosted a group of evangelical leaders for dinner at the White House.
"It began at Jared [Kushner] and Ivanka [Trump's] table. At that table were Rev. Samuel Rodriguez, Tom Mullins, Cissie Graham Lynch, Harry Jackson, myself and George Wood," Moore recalled. "I think Sam started the discussion. He was speaking about a number of things. It turned out that Jared and Ivanka care a great deal about the issue. That led to a series of dozens of subsequent meetings."
Kushner and his Office of American Innovation have been studying the issue of criminal justice reform and prisoner re-entry for the past six months, Moore said.
"They have looked at private organizations and their programs. They have looked across the government as to what can and can't be done for the short and long term," Moore told CP. "They have come up with a list of short- and long-term priorities that will make a substantive difference on this issue."
Criminal justice reform is increasingly becoming a bipartisan issue, as conservatives have embraced the idea that such reforms could reduce the overall cost of incarceration on governments.
"Over 95 percent of people incarcerated will be released from prison at some point regardless of their crime. Americans are safer and communities stronger when individuals come out of prison better than they went in," former U.S. Senator Jim DeMint, the former head of the Washington, D.C.-based conservative think tank Heritage Foundation, said in a statement. "Rehabilitation programs give them a second chance at self-reliance and personal responsibility so they can lead productive and law-abiding lives."
Some of the focus of the meeting was on highlighting various reforms and programs that have worked at the state level, such as those in conservative states like Texas, Louisiana, Georgia, Kentucky, Kansas, and Oklahoma.
"It's not a simple issue in the sense that there are certain things the federal government has to do," Moore said. "There are certain things states have to do. There are certain things the legislative branch has to do. There are roles for the Department of Justice and roles for everything else."
Since Texas passed prison reform legislation in 2007, the state has closed seven prisons.
According to Pew, more than 30 states have enacted policies to "reverse corrections growth and contain costs, while maintaining the long-term, nationwide decline in the crime rate that began in the early 1990s."
As far as the federal government goes, Moore explained that there are a number of common sense policy changes and directives that can fix rules and regulations hurting the system.
"There are reforms that need to take place. Some of them are legislative. Jared and Ivanka had several meetings with key members of Congress on the issue. There are also federal directives, policy decisions that are in control of the various departments whether it is the Department of Justice or anywhere else," Moore stated. "Simple changes can be made to make it easier, for instance, for local prisons to partner with communities of faith."