Pastor Rushed to Las Vegas With 'Spiritual SEAL Team' on Night of Shooting
Pastor Rushed to Las Vegas With 'Spiritual SEAL Team' on Night of Shooting
It was supposed to be a fun Sunday night concert. My sister was posting on Facebook and taking pictures with friends. She was celebrating first responders who served at a terrible disaster, unaware that she was about to be in one herself. As Jason Aldean got into his music set, bullets thundered into 22,000 people tightly packed in a stadium. The worst American shooting in U.S. history left 59 people dead and 527 injured.
I was in New York City unaware that anything had happened. My wife, though, stays connected to the news outlets because she frequently appears on Fox and Friends and Dr. Oz. She informed me that a shooting took place while I was sleeping, and then she called me into the other room. Whenever she calls me into another room, something terrible has happened close to our family. She informed me that my little sister Carolina was at the Route 91 shooting. Tears and deep despair gripped my heart and uncontrollable sorrow caused my eyes to flood with tears. My first response was to catch a plane there so I said, "Book a flight." My wife and I tried calling Carolina's cellphone several times: since her last FB post was in proximity to the incident timeline, we knew she was there.
All I could do was cry out to Jesus for supernatural intervention, the kind of praying that could stop time and matter. I was believing God for something great while my flesh gave me no concord. My body was breaking down while my mouth was full of faith. This was a wrestling between Spirit and the flesh. I called my special assistant Gyasi Summerville to pick me up because I was not fit to drive. Then I called the boldest man I know, Pastor William Devlin, who is nicknamed "Pastor P-Diddy." He said, "I am speaking in Pittsburgh but I will be there!"
He had given the same support to me before. I had contacted him during the Paris terror attacks and the next morning my phone rang — it was Pastor P-Diddy saying, "I am in Paris." So, again, I knew he would not let me be on the ground alone. He called me back and said, "We have a solid team; a former cop who was on SWAT teams is joining us, named Jim." I knew at that moment God prepared a Spiritual SEAL team to find my sister and minister Jesus to others affected. God is great.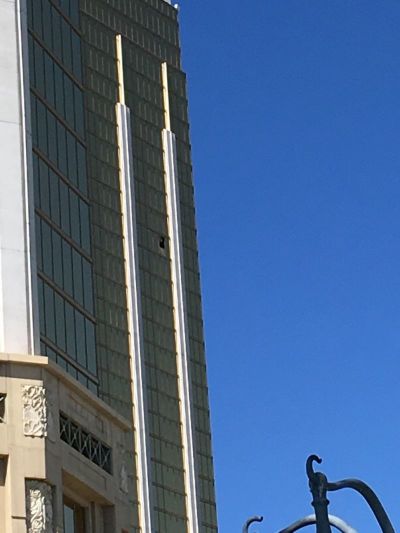 On my way to the airport, my sister Carolina called. My heart leaped with joy to hear her voice and as a big brother I told her I would be there soon. She shared how messed up she was from the bullets flying all around her. The evil shooter aimed in on her VIP room and sprayed it with AK bullets. She told me that two people around her got hit and her best friend caught a bullet in her boot. Then she said, "Thank God you're coming." I hung up the phone to let her get some rest while I walked through the TSA check point.
We hit the ground running, organizing prayer gatherings all around the crime scene. At hospitals, we prayed for survivors and victims who had been shot multiple times. Jesus' love was shared with people who asked us to pray for them. We spoke to people who carried their girl, a bullet lodged in her head, to the hospital in their own car. Unfortunately, she didn't make it. I saw a mountain of clothing, backpacks, and purses still piled in the stadium. Police officers and media joined together in prayer. On this day, they publicly wanted a power greater than themselves.
My sister ran for her life and made it out from bullets flying all around her. She ran to a fire station and was safe. However, hundreds did not make it out untouched. One hero dived on a young girl to shield her, only to find out that one bullet missed him and still took the young lady's life. We met with the manager of the Mandalay who welcomed prayer, happy that some crazy New York City pastors cared enough to come and turn their hotel property into a place of peace and healing.
Keep my sister Carolina in prayer, along with those injured, and for all the families planning funerals and having tough discussions with little kids whose parents will not be coming home. In the book Street God I shared my story of experiencing too many homicides, and escaping death several times. Later, I found out that it was my mother's prayers that kept me alive. I know that the prayers of the righteous prevailed for many at the Route 91 shooting in Las Vegas.
Dimas Salaberrios is pastor of Infinity Bible Church, which he founded in partnership with Tim Keller and Redeemer City to City, in the South Bronx of New York City. Infinity targets at-risk youth and spearheads numerous outreach events and discipleship groups. As a worldwide missionary, church planter, and speaker, Pastor Dimas has shared the gospel on every continent except Antarctica. He is also president of Concerts of Prayer Greater New York, and he holds a master of divinity degree from Alliance Theological Seminary. He and his wife, Tiffany, live in the Bronx with their two daughters. Learn more at streetgodbook.com.