Pastor removed from San Diego police oversight board over LGBT beliefs sues mayor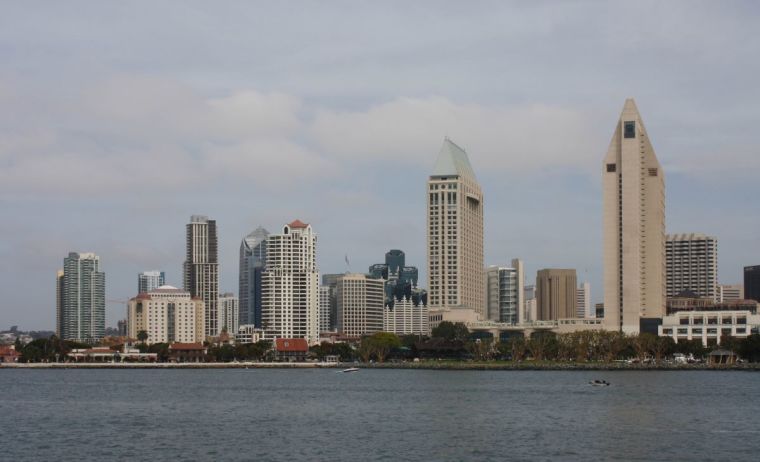 A San Diego County human relations commissioner and pastor has filed a lawsuit against San Diego Mayor Todd Gloria for removing him from a city board, alleging discrimination against his religious beliefs. The action followed the pastor's abstention from a vote condemning transphobia, citing his Christian faith.
Dennis Hodges, pastor of the Church of Yeshua Ha Mashiach in Lemon Grove, California, and a member of the San Diego County Human Relations Commission since 2021, filed the lawsuit in the U.S. District Court for the Southern District of California earlier this month.
The complaint alleges that Hodges' fellow commissioners influenced Gloria to veto his reappointment to San Diego's Citizens Advisory Board on Police/Community Relations.
Hodges, a member of the city board since 2017, abstained from a November 2021 Human Relations Commission vote on "an agenda item relating to the transgender community."
Video from the meeting shows that the agenda item in question was "a letter from the City of San Diego Human Relations Commissioner Tootie Thomas Regarding Ending Discrimination and Transphobia by Amplifying the Visibility and Voices of the Transgender Community."
One commission member identified the agenda item's purpose as to "send a strong signal that the city and the county" are committed to "ending transphobia." It would entail drafting a letter and sending it out on behalf of the commission. 
The lawsuit attributed Hodges' abstention vote to his religious beliefs, specifically "because the agenda item conflicted with his Christian beliefs on creation, God's design for humankind, and human sexuality."
When asked about his abstention at the meeting, Hodges assured his fellow commissioners, "I love all people. I love transgenders as well. But to me, it's an abomination to the eyes of God, so I don't agree with it."
While some of Hodges' fellow commissioners urged him to resign following his "abomination" remark, he defended his position as consistent "with the Word of God." He indicated that he had no intention of stepping down. 
In June 2022, a majority of Hodges' fellow commissioners voted against removing him at a special meeting called by its chair. The lawsuit contends that efforts to oust Hodges from his post on the Human Relations Commission continued for over a year. The filing describes the effort as "a crusade to cancel a man for holding traditional, religious beliefs regarding the biological nature of a man and woman."
In August 2023, Gloria used the authority granted by the City Charter to veto Hodges' reappointment to the San Diego Citizens Advisory Board on Police/Community Relations. The lawsuit cites a memorandum from Gloria, highlighting Hodges' comments about the LGBT community, particularly trans-identified individuals, as a reason for his dismissal from the city board. 
The complaint contends that Gloria's decision was "solely based on Hodges' beliefs about human creation and transgenderism," which the document stresses are "unrelated to his role on the Advisory Board."
Asserting that Hodges' removal from the city board violated his rights under the Free Exercise Clause and the Free Speech Clause to the First Amendment to the U.S. Constitution, the lawsuit seeks unspecified damages and reinstatement to the board.
In a statement, Hodges said he is "standing up for religious people nationwide who have been discriminated against solely because of their faith." 
"[W]hat happened to me at the hands of our government should never happen to anyone else," Hodges said. 
Mariah Gondeiro, the vice president and legal counsel for Advocates for Faith and Freedom, which is representing Hodges, asserted that "it is unacceptable that individuals of faith are being explicitly forbidden from serving in government simply because of their faith."
She insisted that "the mayor of San Diego must be held accountable for his unconstitutional actions."
The lawsuit describes Hodges as "a devoted Christian pastor and public servant," detailing his experience as chaplain of the San Diego Police Department and a special agent/captain in the California Department of Corrections who retired from the state agency in 2008.
In a similar case, Ron Hittle, a former fire chief in Stockton, California, filed an appeal last September after a federal court ruled he was rightfully terminated after attending a religious leadership conference.
Hittle was dismissed over a decade earlier after attending the Global Leadership Summit at Willow Creek Community Church in Illinois. The city of Stockton listed his attendance at this religious conference as a reason for his termination despite instructing him to attend leadership training.
Hittle's attorneys argued that his dismissal was motivated by religious discrimination, violating Title VII of the Civil Rights Act. Hittle, who had served the department for over 20 years and became fire chief in 2005, attended the conference with three other staff members. While it took place at a megachurch, the 2010 conference featured speeches from prominent secular figures like former Presidents Bill Clinton and Jimmy Carter as well as former Secretary of State Colin Powell.
In 2018, the city of Atlanta reached a $1.2 million settlement with its former fire chief, who was fired after he distributed a book at work in which he detailed his views on sexual morality.