Atlanta Reaches $1.2M Settlement With Ex-Fire Chief Fired Over Christian Views on Sex, Marriage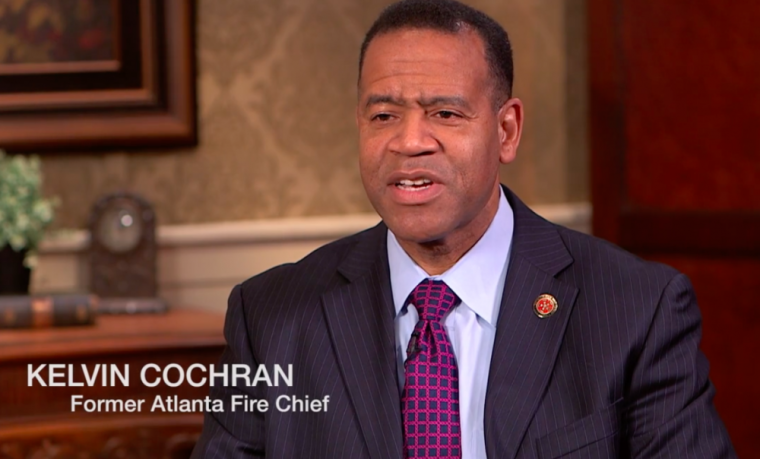 The city of Atlanta has reached a settlement with Kelvin Cochran, its former fire chief, who was fired after he distributed a book at work in which he detailed his views on sexual morality.
Atlanta's Fox News affiliate has reported that the city agreed pay Cochran $1.2 million in the settlement. In 2013, the former fire chief penned a book about his faith that he gave to approximately a dozen others whom he said had either asked for a copy or who shared his views.
Yet because his book took an unfavorable stance toward homosexuality, among other things, he was ousted in January 2015. Then-mayor Kasim Reed said that Cochran had violated city policy by promoting the book while on the job. The book, a 162-page men's devotional titled Who Told You That You Were Naked?, briefly mentions the biblical perspective on sexual ethics and morality.
Reed initially said Cochran would have to undergo "sensitivity training" and in November 2014 was put on a 30-day suspension without pay but was ultimately fired.
Cochran then filed a federal lawsuit and was represented by Christian legal group Alliance Defending Freedom. Together they contended that the city had violated his free speech and due-process rights and that his reputation had been marred such that he could no longer find employment as a firefighter.
"Given my history and work throughout my career and with the city of Atlanta, I was shocked that writing a book and encouraging Christian men to be the husbands and fathers and men that God had called us to be, would jeopardize my 34-year career," Cochran said.
The Atlanta City Council voted 11-3 Monday on the specific amount of damages and attorneys' fees it owes Cochran following negotiations with attorneys at Alliance Defending Freedom. Atlanta's Mayor Keisha Lance Bottoms will now have to sign off on or veto the settlement package.
"The government can't force its employees to get its permission before they engage in free speech. It also can't fire them for exercising that First Amendment freedom, causing them to lose both their freedom and their livelihoods," ADF Senior Counsel Kevin Theriot, who represented Cochran in court last year, said in a statement Monday.
"We are very pleased that the city is compensating Chief Cochran as it should, and we hope this will serve as a deterrent to any government that would trample upon the constitutionally protected freedoms of its public servants."
In December 2017, the U.S. District Court for the Northern District of Georgia ruled that Atlanta's rules restricting non-work speech, such as Cochran's book, were too wide and had enabled the city to discriminate against viewpoints with which they disagreed and, therefore, did "not pass constitutional muster."
"This policy would prevent an employee from writing and selling a book on golf or badminton on his own time and, without prior approval, would subject him to firing. It is unclear to the court how such an outside employment would ever affect the city's ability to function, and the city provides no evidence to justify it. ...The potential for stifled speech far outweighs any unsupported assertion of harm," the text of the ruling read.
In 2012, Cochran was named "Fire Chief of the Year" by Fire Chief magazine.