Pastors Heckle Jeff Sessions During Boston Speech, Urge Him to Repent, Cite Matthew 25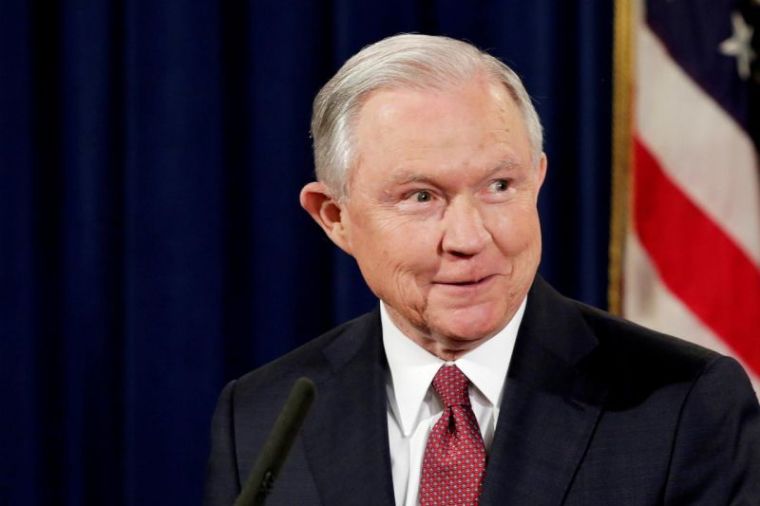 Two pastors interrupted Attorney General Jeff Sessions' speech Monday at a religious freedom conference in Boston, Massachusetts with one urging him to repent and another accusing him and his supporters of hypocrisy.
The 71-year-old Sessions was speaking at an event organized by Boston Lawyers Chapter of the Federalist Society, a national organization consisting of prominent conservative lawyers.
Just having started his remarks on religious freedom, a principle that the Trump administration has vowed to defend, Sessions was disrupted by Will Green, a Methodist pastor from Andover.
A video of the interaction posted to YouTube shows Green interrupted Sessions shortly into his speech by reciting out loud the words of Matthew 25.
"I was a stranger and you did not welcome me," Green said, followed by a good portion of Matthew 25:42-43.
After reciting the passage, Green called on "brother Jeff," as a fellow United Methodist, to "repent and care for those in need." Green urged the attorney general to "remember that when we do not care for others, you are wounding the body of Christ."
Green, who pastors at Ballard Vale United Church, was then escorted out of the room by police officials.
"Well, thank you for those remarks and attack, but I would just tell you we do our best every day to fulfill my responsibility to enforce the laws of the United States," Sessions said in response.
As Green was being escorted out, some in the crowd shouted for him to "Go home!"
Rev. Darrell Hamilton II, the pastor for formation and outreach at First Baptist Church of Jamaica Plain in Boston, stood up as Green was being escorted out to address Sessions and the crowd.
"That is a person who represents the Christian tradition, a faith that everyone here professes to believe in," Hamilton said in defense of Green. "He was actually sharing the words of Jesus himself. The words of Jesus are actually represented in the book of Isaiah."
As security escorted Hamilton out, Hamilton accused those in the room of trying to stifle his speech and his religious freedom to be a social witness.
"I thought we were here to protect our religious liberty today. I am a pastor at a Baptist church and you are escorting me out for exercising my religious freedom," Hamilton said. "That doesn't make any sense. It seems very hypocritical for this group of people who wanted to protect religious freedom. You are escorting me out for doing that very work."
Sessions responded to the demonstrators by stating that they are using a tactic he refers to as the "heckler's veto" — "the ability of one individual to prevent others in a proper forum to be able to express a hopefully coherent thought about a serious subject."
Green told CNN that his act of disruption was "grounded and rooted in love." He added that he and Hamilton were not alone as there were others protesting Sessions outside of the building.
"This action came out of deep community — people who are organized and people who work together," Green explained, adding that he hopes people are inspired by the "invitation to get involved, to get organized, to stand up and speak out."  
In an interview with the Religion News Service, Green cited his concerns with Justice Department policies and Sessions' views on issues like refugees and immigration.
A local chapter of the the progressive Christian activist organization Faith in Action, which has in the past helped organize various public demonstrations and acts of civil disobedience nationwide, tweeted that Green "worked with us to remind Jeff Sessions that religious liberty is about love."
"I interrupted Attorney General Sessions today because his entire political agenda is antithetical to the gospel of Jesus Christ," Hamilton was quoted as saying. "Brother Jeff and I are members of the United Methodist Church, so I think I have a responsibility to call him to account about the harm he's doing."
Sessions drew backlash from Methodists earlier this year after he cited the biblical book of Romans to defend the Trump administration's policy of separating immigrant children from their families at the U.S. southern border. 
Sessions defended his political beliefs during his speech.
"I don't believe there's anything in the Scripture or anything in my theology that says a secular nation state cannot have lawful laws to control immigration ... not immoral, not indecent and not unkind to state what your laws are and then set about to enforce them," Sessions said.