Pat Robertson Cheating Advice: Host Responds to Plea From Woman Struggling to Forgive Infidelity (VIDEO)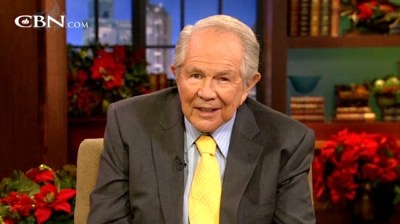 Pat Robertson has given advice to a woman pleading for help to forgive her husband for cheating on her years ago.
Speaking on Wednesday's edition of his daily program "The 700 Club," Robertson was asked by one female viewer named Ivy: "I've been trying to forgive my husband for cheating on me. We have gone to counseling, but I just can't seem to forgive, nor can I trust.
"How do you let go of the anger? How do you trust again? God says to forgive, but it's been so hard to do. I want to forgive, so we can get on with our lives."
Robertson's co-host first briefly commented that "forgiveness could be one of the most difficult things in the whole wide world to do, and especially when it comes to the spouse, because that's one of the ultimate betrayals."
Robertson then followed up those comments by suggesting that the woman try to focus on her husband's good points, and why she fell in love with him in the first place. He started, "Here's the secret; stop talking about the cheating."
Robertson added: "He cheated on you. Well, he's a man. OK. So what you do, is you begin to focus on why you married him in the first place, on what he does good.
"Does he provide a home for you to live in? Does he provide food for you to eat? Does he provide clothes for you to wear? Is he nice to the children? Do you have a happy family? Does he take your kids to sporting events? Does he go out and watch their Little League games? Does he share with you stuff that's going on? And is he handsome? Ya know, what is he?"
He continued, "Start focusing on those things and essentially fall in love with him all over again."
Robertson also recommended that she "reach out to him," and that she "touch his face" and "hold his hand." He also advised to "look him in the eyes" and "talk to him."
"But you praying 'Oh God, keep me from hating him for what he did when he was with that stripper in that hotel room 10 years ago and I'll never forgive him' kind of thing, 'Please help me'," Robertson said. "So what are you focusing on? You're focusing on the thing that makes you mad. Stop that!"
"Start focusing on the good stuff."
Here is the full video of Robertson's advice to the female viewer asking for help to forgive her husband's infidelity:
Robertson: Husband Cheated But "Well, He's A Man"