Pat Robertson: ISIS Beheadings May Be the 'Best Thing That Ever Happened to the World'
Pat Robertson: ISIS Beheadings May Be the 'Best Thing That Ever Happened to the World'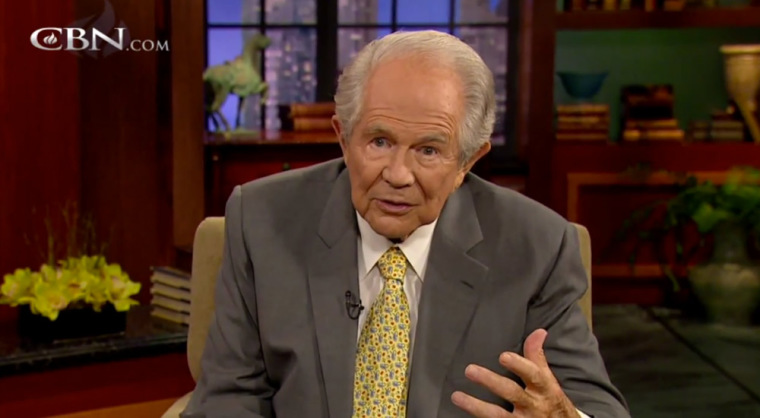 Televangelist Pat Robertson has recently claimed that the beheadings committed by the Islamic State terrorist group might be "the best thing that ever happened to the world."
On his program "The 700 Club," Robertson explained on Wednesday that ISIS' atrocities, such as their beheading of religious minorities and prisoners of war, was educational for the West.
"You wonder. Maybe the best thing that ever happened to the world is for these crazies in ISIS to keep on beheading people," said Robertson.
"Doing some of these extreme things. … Listen, you've heard all this business about Islam being a religion of peace. Islam does not mean 'peace,' it means 'submission.'"
Robertson went on to promote a book titled Islam: Religion of Peace or War? which he offered to give viewers for free.
"You really need it," said Robertson, regarding the book. "You need to see what's here because it quotes directly from the Quran, directly from the life of Muhammad."
Also called ISIL, the terrorist group ISIS started out as an affiliate of al-Qaeda before growing into a major organization that holds large amounts of territory in Syria and Iraq.
The group has garnered headlines for its brutal treatment of civilians, religious minorities, and prisoners of war, including fellow Muslims.
ISIS has garnered denunciations from many religious and political leaders in the Islamic world and has faced stiff resistance from predominantly Muslim armies, including Kurdistan's Peshmerga.
Robertson's comments come as ISIS has reportedly crucified and killed two children in Syria for failing to fast during the Islamic holy month of Ramadan.
The boys, who were both younger than 18, were later displayed with placards hung around their necks revealing their "crime" in the town of Mayadin, Deir Ezzor province, the Syrian Observatory for Human Rights revealed last month.
"Apparently, they were caught eating," SOHR founder Rami Abdel Rahman told the AFP news agency.
Muslims are forbidden to take food, water, or have sexual relations during Ramadan from sunrise to sunset, but the rule is not supposed to apply to children, pregnant women, the ill, elderly or people who are traveling.
A report released by the Syrian Observatory for Human Rights last week also noted that in the first year of its self-proclaimed Islamic Caliphate, ISIS jihadists executed over 3,027 people, among them being at least 86 women and 76 children. Some analysts have suggested that such executions are part of an "apocalypse ideology."
The report looks back at the atrocities the jihadists have committed throughout the past year, since it first invaded Iraq back in June 2014.
The number of executions does not include all people that have died as a result of ISIS' actions, but only those executed for crimes under the terror group's authority. Such "crimes" include blasphemy and spying, practicing sorcery, sodomy, or identifying as a Shiite Muslim. The methods of execution have ranged from beheading, stoning, burning individuals alive, drowning them in cages, or throwing them off tall buildings.