Patrick Garcia Named Lead Pastor at The Hills Church After Controversial Crossroads Firing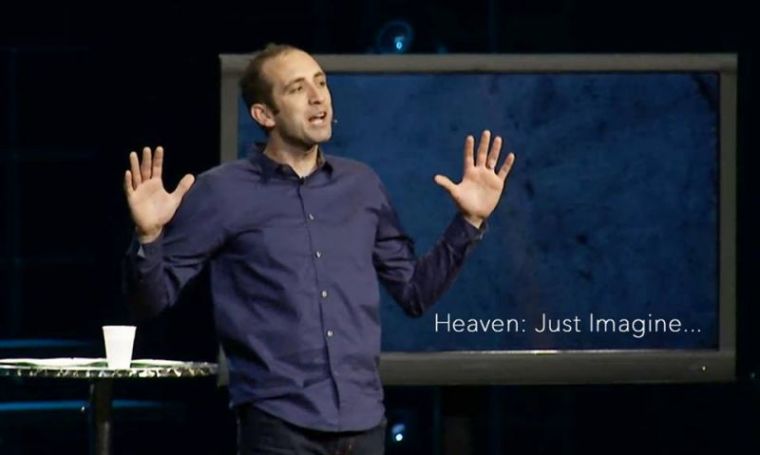 Just two months after his controversial firing from his lead pastor role at the multi-campus Crossroads Christian Church in Indiana, Patrick Garcia re-emerged amid a standing ovation Sunday as the lead pastor of The Hills Church, created by former Crossroads leaders and members.
"Thank you so much. It is such an honor to be here. It is an honor to be a part of this family. And it doesn't go without saying that we stand on the shoulders of so many of you including Rick and Dave and Darryl who took steps of faith early on to start this thing and so we've got to give credit where credit is due. And so thank you for stepping out in faith guys," Garcia, 31, said to applause at the church Sunday.
In August, after dissension erupted at Crossroads Christian Church among members and leaders over Garcia's firing, elders accused him of being an inexperienced power-hungry leader who wanted "complete control."
In an interview with The Christian Post Monday, Garcia admitted to having philosophical differences about leadership and purpose with the elders at Crossroads Christian Church.
"When you get down to the heart of it that's what it was. When you see Paul and Barnabas parting ways in Scripture, the Gospel continued to advance because Paul could be who he was and Barnabas could be who he was. Barnabas was very much an encourager. He was someone who was maybe more emotionally driven and was more sensitive to the people's needs whereas Paul, he had some of that but his focus and purpose was different and that was an aggressive mission to turn the world upside down for Jesus Christ," he said.
"Am I an inexperienced leader? To a degree. Yeah. I mean I'm 31 years old. I was working with guys on the Crossroads board who had been elder longer than I've been alive. So sure that statement is true but for leaders to get better, leaders have to be learners," he continued.
"I have never claimed to be a perfect leader. I have made mistakes and I have flaws but I am somebody who is determined to learn from my mistakes and to be self-aware and to surround myself with a team that is smarter than me and has a different set of skillset than I do and that was one thing that really attracted me to The Hills because this is a team that I not only know and I have worked with but we complement each other fairly well and this is a team with a lot of integrity, loyalty; we've got each other's backs," he said.
In his new role at The Hills Church, Garcia has been reunited with former Crossroads pastor Rick Kyle, who was also fired, and two other pastors, Darryl Marin and David Bowersox, who resigned in protest.
Kyle, Marin and Bowersox are currently listed as teaching pastor, executive pastor of ministries and executive pastor of operations, respectively. The new congregation is now focused on sacrificing "everything" to share the Gospel, according to their mission statement.
"Every day we make decisions about what we're willing to make sacrifices for. At The Hills Church, we will sacrifice everything to share our message with the lost. Our message is simple: God not only knows you, but He loves you, and He wants you to know Him," explains the church's website. "At The Hills Church, we call them hills—those things we're willing to sacrifice everything for. We've tried to take many hills that don't ultimately lead to Jesus, and we realize that there are only a few hills actually worth sacrificing for. We want every person to know Jesus, and that is a hill we will die on...every time.
Garcia said he and his leadership team are all aligned with the purpose of the new church, which is averaging a "sturdy core" of about 700-800 people at services weekly.
Speaking during the announcement of Garcia's new role at The Hills Church Sunday, Bowersox described him as one of his "best friends."
"It is our honor for Patrick to have joined the team ... as we seek to reach this community together as broken people who reach broken people for Jesus," he said.
Garcia told the congregation on Sunday that after his dismissal from Crossroads, he and his family considered a number of other opportunities across the country but said God told them to stay in Indiana.
"You know for the past few months we have looked at different opportunities around the country and some situations look really attractive. Everything in our circumstances honestly told us to leave but when we were on our knees we heard something completely different and the Lord was telling us to stay," he said.
Garcia told CP that being obedient to what they heard the Lord said wasn't an easy decision.
"Honestly, that decision to stay — first reaction was fear, first reaction was 'my goodness this is a huge step of faith, this is a risk. What if this happens or I could be perceived as this (church divider).' So I really had to battle a lot of personal insecurities and concern over what people would think about me," he said.
He insisted, however, that he couldn't find an example in all the gospels where Jesus allowed what other religious leaders thought about Him to affect how he pursued ministry.
"We want nothing but the best for Crossroads. We love Crossroads and we are very grateful for the time we had there, but at the end of the day the decision came down to 'do we stay, do we go' and we heard the Lord say 'stay put,'" he said.