Ex-Crossroads Pastors Launch New Church After Patrick Garcia Firing; Over 500 Attend
Ex-Crossroads Pastors Launch New Church After Patrick Garcia Firing; Over 500 Attend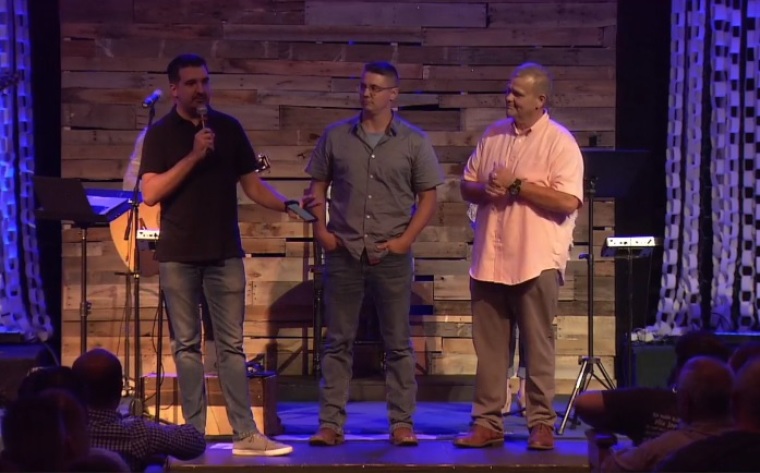 Pastors who either resigned or were ousted from the multi-campus Crossroads Christian Church in Indiana have started a new church that has seen as many as 500 people in attendance for a pre-launch "mini service."
The Hills Church in Evansville, Indiana was created this month by former pastors who were affiliated with Crossroads before the elder board fired lead pastor Patrick Garcia last month due to what the church deemed "philosophical differences in church leadership."
Along with Garcia, teaching pastor Rick Kyle was also let go and pastors Darryl Marin and David Bowersox resigned in protest of Garcia's firing. Additionally, pastor Paul Linge also resigned in recent weeks.
Led by Kyle, Bowersox, and Marin, The Hills Church will officially launch in October but has already held and will continue to hold "mini services." Over 500 attended a service this past Saturday night that was held at The Gathering Church in Evansville.
"We are not doing this out of hate, we are not doing this out of hurt or emotion but out of a strong conviction that we were called to Evansville and that calling has not changed," Marin said at the beginning of the Saturday evening service. "Tonight we are here to announce, launch and pray for a new church movement in the city of Evansville. We are here to announce that we are going to start The Hills Church. Our name is our mission. We want everyone to know Jesus and that is a hill we will die on everytime."
Marin thanked the crowd for having "the faith to stick with us" and "giving us the faith to step out to start a movement."
"Without each and everyone of you in here, we couldn't do it," Marin, who will serve as executive pastor of ministries, stated. "This is an official church. When you give tonight, you are giving to The Hills Church — it's a 501(c)3, with the state of Indiana, we have all the paperwork, we are the real deal."
Marin assured the crowd that the decision to start The Hills has "no bearing on where we were or how much we loved each and everyone of the people we had the pleasure of serving side-by-side."
"But we had to make a choice and we made that choice. We are moving forward in Jesus' name and we are not going to look back on what God is calling us to do," Marin said of their departure from the megachurch that draws a weekly attendance of about 3,500. "I rejoice for all the time I was given. I was blessed and highly favored by each and everyone of those people. I still rejoice and they are still my brothers and sisters in Christ. The only way God can do what he had to do was through what he needed to do in this movement. If He needs to scatter us, scatter us. We will listen, Lord, and will do what You have called us to do."
While Marin is listed as executive pastor of ministries, Kyle will serve as executive teaching pastor and Bowersox will serve as executive pastor of operations.
Garcia, who served as Crossroads lead pastor for about two-and-a-half years before his firing, is noticeably absent from The Hills staff list at the moment.
During the service on Saturday, Marin read off a statement he received from Garcia to share with the new congregation.
"The Garcias are taking their time to recover from their abrupt ending at Crossroads," Marin said as he read the statement on his phone. "They too are considering joining The Hills team but have not made a final decision yet."
This upcoming weekend, the church will hold another mini service on Saturday night and another one on Sunday evening at The Gathering.
The Hills Church plans to begin holding its services at the Old National Events Plaza (a 280,000-square-foot convention center and auditorium) in about a month, Kyle told WFIE.
Crossroads elder Matt Volkman previously told The Christian Post that Garcia's firing from the church was a response to efforts to take "complete control" of the Church and "curtail the elders' role as leaders and overseers of the church." Volkman said that Garcia's actions were "in direct conflict with the role of the elder board as stated in our articles and our bylaws."
Kyle was accused of having a public outburst earlier this year and showing hostile behavior toward elders.
Kyle told Tristate that he did display anger one day over a toilet that had been broken for five days. Kyle also refuted the church's claims against Garcia.
"The charge against Patrick is he wants to be too much in charge," Kyle said. "Then they spun it to say they're really all about outreach, when they have several times told us that we are too evangelistic, we are too outreach-focused."
Over 600 people had signed a petition calling for a vote to reinstate Garcia. 
Volkman told the Courier & Press that Crossroads is moving on and has as many as 11 people serving in pastoral roles despite only having four peolpe listed on its leadership webpage.
"Our church is doing well," Volkman was quoted as saying. "Our staff is very committed to our church. We are in process of the search for a new lead pastor."
Pat Creech, who heads Crossroads' strategic outreach, told the Courier & Press that attendance has been down a bit since the exodus of pastors.
"But we've also noticed an influx of new people, particularly young families," he said. "So we're going to be in a good spot. We're going to weather this well. Our people are strong."