Pentatonix members 'infiltrating' culture like Daniel to show world beauty of the Gospel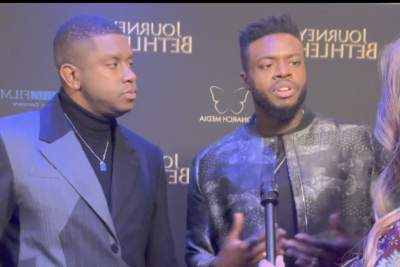 BEVERLY HILLS, Calif. — Pentatonix members Matt Sallee and Kevin Olusola may be part of one of the best-known cappella groups worldwide, even earning a star on the Hollywood Walk of Fame earlier this year, but the devout Christians don't view themselves as celebrities.
Rather, their goal is to serve as "Daniels" in mainstream culture, bringing light into dark spaces. 
"When you look at Daniel in the Bible, he goes into the culture, and he gets to infiltrate, but he also gets to stay true to the one true God," Olusola, beatboxer and vocalist with the group, told The Christian Post. 
"I think for us, the goal is just to be a light in culture, and show people how beautiful and joyous and cool the Gospel is. I think there's a lot of stigma around the Gospel; that 'it's just not for me,' 'it can't be.' But actually, Jesus invites every single person into a relationship."
Olusola also said, "I use the word' infiltration,' but that's kind of almost what it is. It's just being in culture in a way where people say, 'Oh, well, I didn't know the Gospel could be that. I didn't know that it can be relatable to my life, and whatever I'm going through.'"
A Grammy Award-winning group, Pentatonix is comprised of Scott Hoying, Mitch Grassi, Kirstin Maldonado, along with Sallee and Olusola. The group has released 11 studio albums, including Christmas-themed music, videos and TV specials. The group has sold over 10 million albums worldwide. 
Pentatonix is currently on its "The Most Wonderful Tour Of The Year," celebrating their Christmas hits album. They are slated to perform at the annual Macy's Thanksgiving Day Parade on Nov. 23.
Sallee and Olusola, who spoke to CP at the red carpet premiere of the faith-based musical "Journey to Bethlehem," said they see their musical journey as a mission.
They express their faith through songs like "Mary, Did You Know?" and "Amazing Grace," and seek to touch lives across various spaces. Music, in their view, is a God-given medium that reaches the heart in ways others can't.
"Even though we're not a Christian group …  if you listen to our music, the lyrics, the hope, the message, the spirituality that's in the songs, it resonates and hits the heart in a way that sometimes another medium can't, because there's so much wrapped into the beauty of music," Olusola, who also cohosts the "Imagine Faith" podcast, said.
"Music was created by the Creator. So, when you align to the Creator and how He's purposely using it, then you get the true strength of what it's called to be. [We] pray so much before shows together because we want to be aligned to our Creator, that even though people may not see Jesus physically on the stage, they'll feel Jesus through us."
Living faithfully in an increasingly dark culture isn't always easy. The duo acknowledged the challenges of maintaining their spiritual path in a complex cultural landscape. They credited their upbringing for their ability to balance their calling with the demands of touring. 
"My parents instilled beautiful habits and teachings throughout me and my sibling's childhood, and I feel like those resonate now because it's a balance of always touring and being in different situations you wouldn't necessarily put yourself in," Sallee, who joined Pentatonix in 2017, shared.
"It's all about trusting the Holy Spirit … and yourself just to know that God's called you in your purpose. He's called you here. We talk about this all the time: walk in your purpose, walk in what God has called you to do, … lean on iron sharpening iron, lean on brothers and sisters, and really trust in God because His record is perfect. He's been so good in my life."
"Whether we're in Madison Square Garden, whether we're at a children's hospital, God is everywhere, and He uses us, and He uses so many different people in different areas and arenas to just spread His love and because they choose to choose Him. It's really cool, and I'm really passionate about it," he added.
Olusola emphasized that the sense of being sent by God underpins his commitment to align his talents with Christ's will. Whatever the future holds, the duo stressed their commitment to ensuring their work remains aligned with God's' intentions for them. 
"I feel like God sent us," he said. "I did not decide to be in this industry. And so I feel like when I'm sent, then the only way I can do this is through being aligned to Christ because it wasn't mine to begin with."
"If I do it for my own selfish means, then I have tainted the work that God has called me to do. My goal and my hope is to continuously be aligned to Jesus so that His will for what He sent me for is done."