Perry Noble Strikes Back at 'Hateful Christian' Label for Opposing Obama's Transgender Bathroom Policies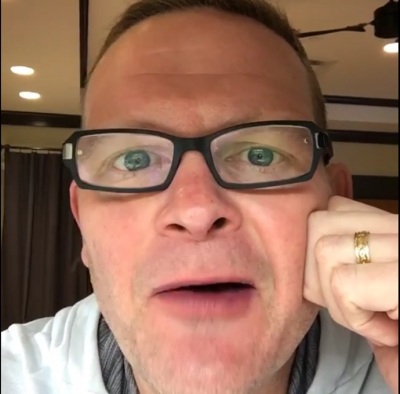 Pastor Perry Noble of NewSpring Church in South Carolina says he's now being described as "ignorant" and "hateful" as an Evangelical Christian who opposes President Obama's transgender bathroom directive to public schools.
Noble said in a Facebook video posted on Monday that after he spoke out against Obama's directive, people have told him things like "This is why I don't go to church; evangelicals are intolerant," and said that he even got called a "hater."
The megachurch leader responded to those accusations by saying: "I don't believe what our president did was right. And it's not because I hate anyone. It's because I am trying my best to be a follower of Jesus Christ, and live according to His teachings. Now, understand something, I fall short every day. I am casting no stones, and I believe that no one is perfect."
The Obama administration's directive demands that public schools allow boys who identify as female to go into girls' bathrooms, and vice versa.
The Education and Justice Departments claim the move is intended to protect transgender students and give them the options that they need.
But Noble referred to Jesus Christ's Words in Matthew 19:4, where it states that "God, at the beginning of time, made people male and female."
"Scientific evidence backs this up, DNA evidence backs this up," the pastor added.
He said that when it comes down to it, the question is about the safety of men and women. He said that he finds it completely "unacceptable" that a teenage boy could be allowed to change his clothes in the same room as his daughter at school.
"I can't handle that," he added. "For me, it's a complete safety issue."
Noble further said that "the whole transgender movement is the ultimate form of telling God: 'I don't believe you got it right.'"
Addressing transgender people directly in his video message, Perry said: "I do not hate you. There is nothing in me that hates you. For me to be labeled a hater because I disagree is intellectual dishonesty on your part. I don't hate you. I just don't agree with President Barack Obama's opinion."
As for how evangelical Christians should respond to the transgender debate, Noble called on them to "to pray, and if you don't agree with President Obama, say you don't agree with him, but don't attack him."
He added: "We can disagree in love."
Other prominent evangelical leaders, including Pastor Robert Jeffress of First Baptist Church in Dallas, Texas, made similar statements regarding Obama's directive.
"Gender identity confusion is an emotional disorder that should be treated professionally, and compassionately. Gender identity confusion should not be exploited by social activists like those in the Obama administration who want to deny the God-given distinction between the sexes. This is a rebellion against God's plan," Jeffress said on Sunday, also pointing to Matthew 19:4.
Jeffress agreed that Christians should treat others lovingly, even when they disagree.
"This is not hatred. Christians should never ridicule, or show hatred toward those experiencing gender confusion, they should not do that at all. We ought to treat them lovingly," he added.