Perry Noble Tells Pastors Endorsing Political Candidates to 'Shut Up, Preach the Gospel'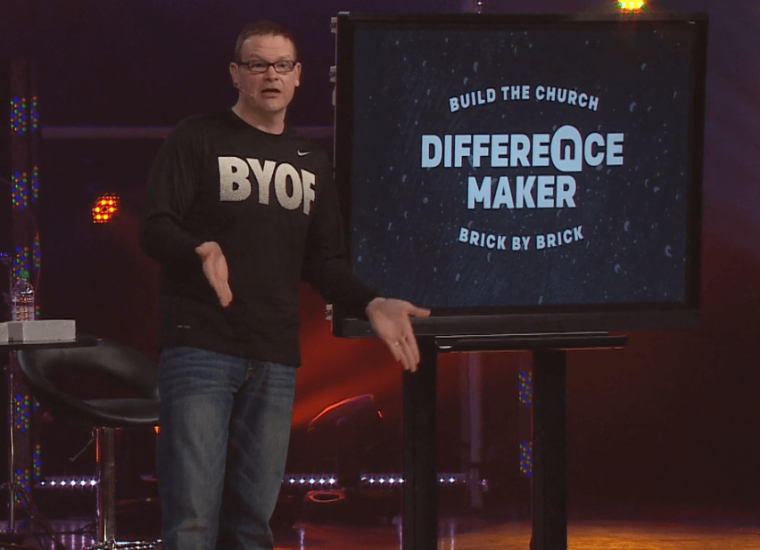 A tweet by South Carolina-based NewSpring Church Pastor Perry Noble is causing a dust-up among believers. Posted Monday afternoon, Noble's Twitter message chided pastors who engage in political endorsements, indicating that their time is better spent spreading the Gospel.
"Dear pastors, please SHUT UP about endorsing a political candidate!!! Preach the GOSPEL!! Jesus is the ONLY hope of the world," Noble exclaimed in a tweet shared with his 153,000 followers."
In a statement shared exclusively with The Christian Post Wednesday, Noble elaborates, "I believe Jesus Christ is the hope of the world. I also believe that the United States matters and we, as Americans, have been given an incredible privilege of participating in the election of the person who leads our country.
"I strongly believe that my beliefs as an Evangelical Christian should determine how I vote, because I do not believe in the privatization of my walk with the Lord. However, should the person I choose to vote for lose, then I believe it is my responsibility to pray for that person daily, not that they will fail, but they will succeed. As a Christian, if I allow politics to consume my mind more than the teachings of Jesus — then I will cease to be a follower of Jesus and merely become an activist that brands myself with a fish or a cross."
Noble's Twitter post is sparking debate, garnering 397 likes and 125 retweets (as of the publication of this article), and setting off a daisy chain of responses — both for and against the remark.
"Wash your hands clean if you will, but I will be involved in this nation," writes @pastorkenrp, who identifies on Twitter as the pastor of a church in Washington state. "This mentality by pastors is why we are going to pot."
To that, @bmartin2011 replied, "'Christians' taking their eyes off Jesus and putting them on political parties is why 'we are going to pot.'" The commenter goes on to say, "Pastors should be more involved w/leading ppl to Jesus than w/politics. You don't think God is in control?"
Perry Noble is no stranger to making controversial comments, or wading into hot-button issues. Earlier this month, The Christian Post reported on the megachurch pastor's blog announcement that he purchased a lottery ticket for the $1.6 billion Powerball jackpot, the largest in U.S. history, fanning the flames of the hotly-debated question of whether Christians should gamble and play the lottery.
Unlike some spiritual leaders, Noble doesn't frown upon gambling and sees it no differently than investing in the stock market.
"I know, I know — spare me the 'gambling' lectures," the pastor wrote in a blog post on his website earlier this month. "I remember when the lottery came to SC, Christians lost their mind and began railing about how the anti-Christ was on his way!"
"Do you have money in the stock market?" Noble asked. "If so then guess what — you are gambling, you are putting your money into something hoping it will go up."
He added, "If this [gambling] turns out to be sinful and wrong one day then I promise to tell God 'I'm sorry.' And, if you think this action will send me to Hell, then I'll most likely see you there."