Persecuted Iraqi, Syrian Christians Receive Over $1 Million From US Charity for Easter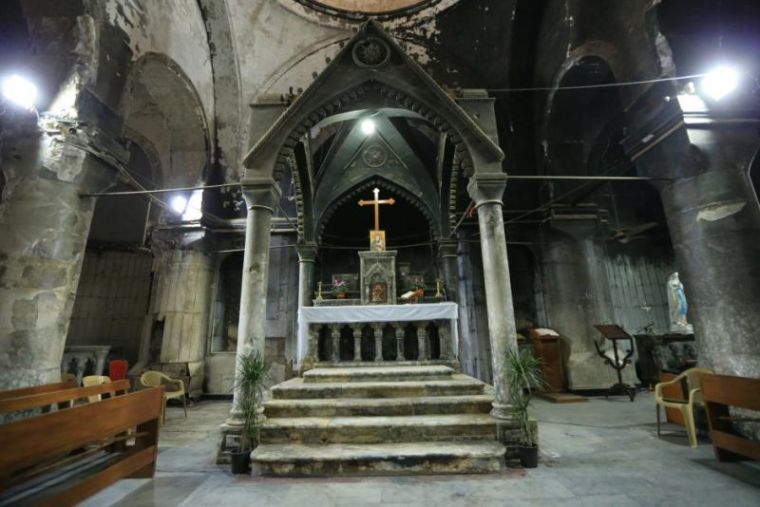 The world's largest Catholic fraternal organization gave over $1 million to help persecuted Iraqi and Syrian Christians as they celebrate the Holy Week and reflect on the resurrection and sacrifice of Jesus Christ.
The United States-based Knights of Columbus announced Tuesday that it had transferred the funds to church leaders in Iraq and Syria.
A total of $500,000 was given to support a food program run by the Catholic Archdiocese of Erbil — the church body that has aided thousands of displaced Christians since the Islamic State took over large swaths of the Nineveh Plain in 2014 and as they resettle in their battered hometowns after the liberation.
Additionally, $300,000 will support aid programs run by the Syriac Catholic Patriarchate which aids nearly 3,000 families from both Iraq and Syria in dire need of clothes, food, shelter, medical care and access to education.
"As we recall the passion, death and resurrection of Jesus, it is particularly timely for us to remember and support our brothers and sisters in Christ who have, in places like Iraq and Syria, endured so much persecution for their faith," Knights of Columbus CEO Carl Anderson said in a statement. "Having faced suffering and even death at the hands of ISIS, we hope that our assistance will help these communities to rise up again and rebuild for the future."
According to the group, a total $250,000 of the transfer comes from a previous Knights of Columbus pledge to help Iraqi Christians rebuild their destroyed hometown.
An additional $800,000 comes in the form of new contributions to the Catholic Archdiocese of Erbil and the Syriac Catholic Patriarchate.
"Our people know that without the direct support from the Knights of Columbus to Christians in the region, and without its assistance in making our case to the United States government, Christianity might already have been driven out of Iraq completely," Chaldean Archbishop of Erbil Bashar Warda said in a statement.
This is not the first time that Knights of Columbus has blessed persecuted Christians celebrating a Christian holiday.
Last year, the organization donated over $1 million-worth of food supplies to the Archdiocese of Erbil to ensure that 15,000 displaced Christians were able to eat well during the Christmas season.
The addition of the new $800,000 brings the total amount of aid the Knights of Columbus has committed to Christians and religious minorities in the region since 2014 to nearly $19 million.
"We know that despite all of these difficulties that [Christian families have faced], we do believe that the providences of God have not let us down," Warda said last year. "We have discovered the hands of mercy via the [charity] that has been shown to us over the last three years and a half. It's made us live with difficulties but with dignity."
The Knights of Columbus pledged last year to donate a total of $2 million to help rebuild the Christian town of Karamles in the Nineveh plain, which was once home to around 850 Christian families.
Karamles priest Thabet Habib told The Christian Post last month that hundreds of homes in his hometown were destroyed as a result of the Islamic State and the battle to liberate the town in 2016.
As many as 300 families have returned, he added.
The $2 million Knights of Columbus donation, which has been received in increments as needed, has been instrumental in helping rebuild the town. The Knights of Columbus aid is also used to help the 80 to 90 Shabak families that have resettled in Karamles.
"The project is very huge," Habib told CP. "We have to work more for this. With this help that is coming from Knights of Columbus, we feel we can do many things."