PETA sells vegan-friendly AI Bible rewrite where Abraham skips sacrificing Isaac, befriends a lamb instead
Adds fictional storyline where Abraham and Sarah adopt 'a dog named Herbie'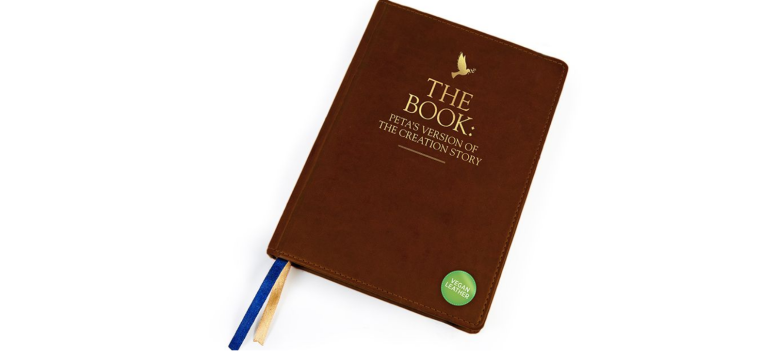 "For just $3.99, you can buy a vegan-friendly version of the Word of God!"
While that's not quite how it's advertised, People for the Ethical Treatment of Animals (PETA) is selling an AI-crafted rewrite of the Bible that aligns the book of Genesis with the group's animal rights messaging.
Produced as a digital download with a virtual "vegan leather" cover, The Book: PETA's Version of the Creation Story is billed as a "first-of-its-kind AI-generated vegan interpretation of the book of Genesis.
According to PETA, "The message in Genesis is that God created every sentient being, He saw that they were good, and He gave them greens for sustenance."
The 75-page book uses ChatGPT — a still-nascent language learning model that has demonstrated a shaky grasp of orthodox theology — to reimagine the first book of the Bible and "reminds readers to treat every member of God's creation with love, kindness, and respect."
Among the changes made by PETA to the Word of God includes referring to animals as "beings" rather than "beasts" or "creatures." Another deviation is the use of plant fibers like hemp and bamboo as clothing rather than animal skins, a significant change from the narrative in Genesis 3 in which God made "garments of [an unidentified animal] skin for Adam and his wife and clothed them" (Genesis 3:21).
PETA's book also goes on to completely transform what most scholars consider to be an Old Testament foreshadowing of the sacrifice of Jesus Christ on Calvary in the account of Abram offering up his only son, Isaac, on Mount Moriah. 
"Among other new interpretations, in Genesis Chapter 22, Abraham travels to the land of Moriah and befriends a gentle lamb to show his reverence and respect for God's creation, rather than slaughtering a ram to demonstrate his faith — much as human sacrifice, once a reality, is now outlawed all over the world," the product description reads.
The animal rights group also inserted an entirely new storyline into Genesis 21, where Abraham and Sarah, who at that point in the text are 100 and 90 years old, respectively, "add to their growing family by adopting a dog named Herbie."
The passage reads: "As they walked with Herbie, Sarah and Abraham thought of the importance of adopting dogs from shelters and rescue organizations rather than purchasing them from breeders.
"They spoke of how buying a dog or cat from a breeder or a pet shop contributes to the companion animal overpopulation crisis, as countless dogs and cats in shelters await loving homes while breeders continue to produce more puppies and kittens for profit."
In a statement, PETA President Ingrid Newkirk defended taking liberties with Christianity's sacred text. 
"The Bible has long been used to justify all forms of oppression, so we've used ChatGPT to make it clear that a loving God would never endorse exploitation of or cruelty to animals," said Newkirk. "It took God only six days to create the entire world, but we realized it would take us years to rewrite the whole Bible, which is why we've started with just the first book."
A PETA US spokesperson told The Christian Post that despite rewriting the first book of the Christian Bible, they have no plans to reimagine the sacred writings of other religions. 
"We've only gotten as far as Genesis, so we're not getting ahead of ourselves, but we're against all animal sacrifice," PETA told CP via email. "There are wonderful ways to make personal sacrifices that don't involve celebrating Eid with bloodshed, and the same is true for the holidays and rituals of all other religions, including Santeria and Hinduism."
As far as the campaign potentially being offensive to Christians, PETA said the organization "embarked on this project at the behest of its Christian members" and called anyone who is offended by the book "wrongheaded."
"This modern rendering of Genesis is a positive approach to bringing more people to understand God's message of compassion, a return to the Garden of Eden, if you will," she said. "This chatbot interpretation of the creation story clarifies and highlights God's intended message of kindness, gentleness and love for everyone."
According to PETA, the purpose of selling a Bible rewrite is "to start important conversations about dominion as a benevolent way of life rather than an exploitative one and to encourage Christians to reconcile their faith with their actions by choosing to live vegan."
But that's not quite how Darrell L. Bock, senior research professor of New Testament Studies at Dallas Theological Seminary, sees it.
"You can't rewrite the Bible by this kind of revisionism and then claim it is a biblical sanction," Bock told CP. "To do so for your preferences undercuts what the Bible is and produces what is no longer the Bible. It produces a fraudulent claim of divine sanction, making God in our image."
Bock, who also serves as executive director for Cultural Engagement at Howard G. Hendricks Center for Christian Leadership and Cultural Engagement, took exception to PETA's claim about the Bible and using it for "oppression."
"The term oppression here is misapplied as well," he said. "Oppression is something humans do to each other. This kind of a use flattens distinctions in the creation that distort Divine design."
While rewriting the Bible is certainly controversial, PETA has made strides in recent years to expand its messaging to faith-based audiences with its LAMBS program, a resource aimed at providing Christians with scriptural evidence for what PETA says is God's plan for animals under the stewardship of man.
Interestingly, the LAMBS page omits any reference to Genesis 3 and the first sacrifice for sin or the Levitical system of sacrifice given to Moses, but does make reference to Isaiah 11:6-9, understood by most scholars to be a Messianic prophecy when animals will no longer harm humans or one another in the Kingdom of God. 
PETA's page cites the passage as evidence that a "vegan diet is a Kingdom diet."
"Everything about eating animals flies in the face of what it means to be a good steward of God's creation," the page states. "The Kingdom of God — the vision of life fully reconciled to God — is marked, in part, by peace between species, nonviolence, and life over death. 
"Using animals for food, clothing, experiments, and entertainment necessitates violence and death."