Billy Graham Holiday Petition Gets Over 100,000 Signatures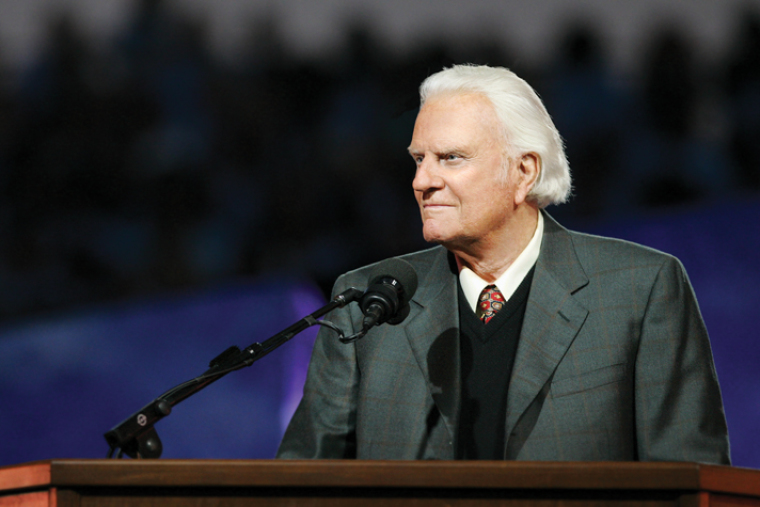 A petition calling for the creation of a national holiday honoring the Rev. Billy Graham has garnered over 100,000 signatures in a week.
Posted to Change.org by a Kyle Siler and addressed to President Donald Trump, Congress, and a few other elected officials, the petition passed the 100,000-signature mark early Wednesday morning.
"Mr. Graham preached the Gospel to more people in live audiences than anyone else in history — nearly 215 million people in more than 185 countries and territories — through various meetings, including Mission World and Global Mission," reads the petition.
"Hundreds of millions more have been reached through television, video, film, and webcasts. Mr. Graham's counsel was sought by presidents, and his appeal in both the secular and religious arenas is evidenced by the wide range of groups that have honored him, including numerous honorary doctorates from many institutions in the U.S. and abroad."
Born in 1918 and renowned for his evangelical crusades, Billy Graham died on Feb. 21 at his home in Montreat, North Carolina, at 99.
In addition to the funeral services held in North Carolina, Graham became only the fourth private citizen to lie in honor at the U.S. Capitol. The last private person was Rosa Parks in 2005.
"Here lies America's pastor," said Speaker of the House Paul Ryan in a short message after Graham's casket was placed in the center of the Rotunda by members of the U.S. military.
"A man made great not by who he was but by who he served with all of his heart and all of his soul and all of his mind. We give thanks to God for the life and the works of this humble servant now and forever."
The move was not without its critics, as secular groups like Americans United for Separation of Church and State argued that Graham's public career was too sectarian for the political honor.
"Our position is that Graham should not lie in honor. We don't say this to criticize a man who has died, but because the question of who should receive this rare honor warrants public discussion," stated Americans United last week.
"Such a high government honor for someone solely for their work spreading an interpretation of one faith offends the spirit of our First Amendment's guarantee that government will not take actions that endorse or promote religion."