Philippine President Rodrigo Duterte Asks: 'Where Is God When Babies Are Raped and Killed?'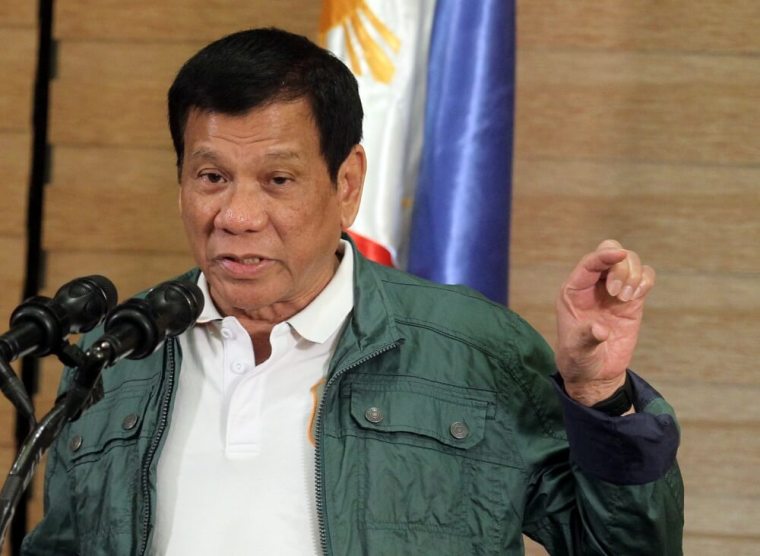 Controversial Philippine President Rodrigo Duterte reportedly brought God into a debate on the death penalty on Monday, and asked why He doesn't intervene and stop babies from being raped and killed.
"The bleeding hearts, the priests and all, said there was death penalty before, and nothing happened. Then I can simply say, death penalty didn't work because it wasn't imposed. Every president along the way would just say, one because of the Catholic Church; second the bleeding hearts, because only God can kill. The problem there, I ask you, what if there is no God? So we allow the criminals? " Duterte said in a speech in Malacañang, according to The Manila Times.
"So where is now God when a one year old baby, 18-months-old baby is taken from the mother's arms brought under a jeep and raped and killed. So where is God?" he added.
Duterte was defending his use of the death penalty in tackling crime in the South Asian country, but said that those who rely on God to bring justice must also wonder why He is not intervening in the wars around the world, such as the atrocities being carried out by the Islamic State terror group in Iraq and Syria.
"So where is God? My God, where are you? I believe in God but that is my perpetual question to Him. Where were you when we needed you? It's not enough to say that at the end of the world, He will judge the living and the dead," Duterte continued.
"What would be the purpose of all of that if the heartaches, sorrows and agony have already been inflicted in this world."
Capital punishment has been debated for decades in the Philippines, having been abolished and later re-imposed by several different presidents.
Duterte has been accused of human rights violations by human rights groups, however, following a string of extrajudicial killings since his administration took control in June, leading to the deaths of over 3,000 suspected drug pushers and users.
Duterte has strongly hit back against any criticism of his record, however, and even used offensive language against visiting U.S. President Barack Obama earlier in September to warn him against questioning his practices.
"I am a president of a sovereign state and we have long ceased to be a colony. I do not have any master except the Filipino people, nobody but nobody. You must be respectful. Do not just throw questions. Putang ina I will swear at you in that forum," Duterte earlier said in remarks directed at Obama, using the Tagalog phrase for "son of a [expletive]" or "son of a whore."
The Philippine president later apologized for his words, insisting they were not meant to be a personal attack.
Duterte has said in the past that while he believes in God, he rejects religion, including the dominant Roman Catholic Church in his country.
"For the record, I believe in God but I do not believe in religion period," he shared with GMA News in an interview back in May.