Planned Parenthood Abortionist Talks 'Intact Specimens' in 4th Undercover Video: Look, 'It's a Baby ... It's Another Boy'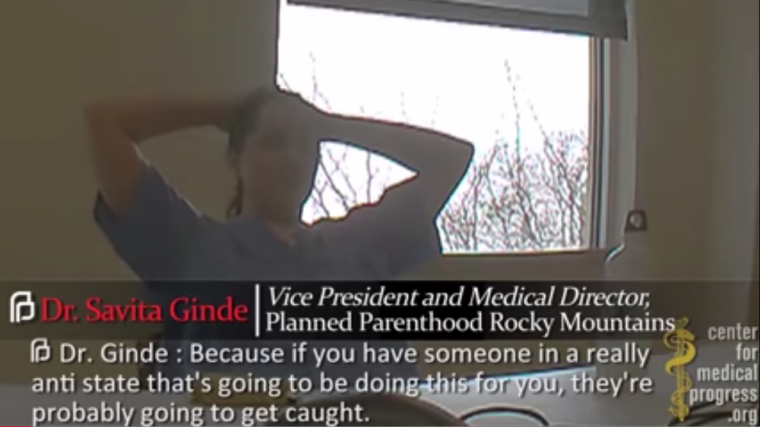 The Center for Medical Progress has released its fourth undercover video shining a light on Planned Parenthood's controversial aborted baby parts compensation practices, which purports to show a vice president of the organization negotiating a deal and discussing how to avoid legal consequences.
The video, which was released on Thursday, allegedly shows Vice President and Medical Director of Planned Parenthood of the Rocky Mountains, Dr. Savita Ginde, discussing illicit compensation for aborted baby parts, the sale of such parts across state lines, and the importance of having Planned Parenthood affiliates and its legal teams on the same page so that such transactions look good in the eye of the "public sector."
The new video shows two investigators posing as tissue procurement officers for a human biologics company discussing the possibility of securing only "intact specimens" with Ginde during a visit to a Denver "mega-abortion clinic" headquarters on April 7 of this year.
During the conversation, the undercover investigators asked how many intact specimens, meaning intact organs, does the clinic get in each day. Ginde replies by saying somewhere between three and seven and that about 10 percent of the specimens are intact.
"Sometimes, if we get, if someone delivers before we are able to see them for a procedure, then we are intact," Ginde quipped.
Ginde then adds that the abortion providers would need to be trained to look for intact specimens, so they are sure not to crush them in the process of the abortion.
The investigators then begin talking about compensation. By law, it's illegal for anyone to profit off of the sell of aborted fetal tissue, but it's legal to be compensated for financial loss. The undercover investigator explains to Ginde that he wants to pay "top dollar" because he wants to make sure his suppliers are happy.
"So it could look like we're paying you for specimens so lets talk about it correctly. We all know that yes, that's what we we're doing," the investigator said. "So yes, I am paying you but how we're talking about, out there in the public square."
The video then shows Ginde stating how it's important to get all Planned Parenthood affiliates who are doing similar deals for intact specimens on the same page with how they label the contracts and talk about the agreements in public.
Ginde also mentions how she would have to talk to Deb Nucatola, senior director of Medical Services for PPFA and the subject of the center's first undercover video, to make sure that all affiliates involved in the practices are on the same page.
Ginde and the undercover investigators agree that classifying such deals as "research" makes them look like less of a "business venture."
"Yeah, in public I think it makes a lot more sense for it be in the research vein than, I'd say, business venture. So even though they don't want to do it, I may need to call research and Deb and just kind of shake this out because I do want the other Planned Parenthoods, I want us all to be making the same decision," Ginde explains.
"But we have to know who else is doing this, because if you have someone in a real anti state that's going to be doing this for you, they're probably going to get caught."
The buyer then asks how confident Ginde is in Planned Parenthood's attorney in case the organization comes under fire for selling fetal parts across state lines, which is an act punishable by a $500,000 fine and up to 10 years in prison.
"He's got it figured out … because we talked to him in the beginning . We were like, 'We don't want to get called on it,' you know, selling fetal parts across states. You know what I mean? Like, no one wants to get [caught]," Ginde stated. "I'm confident that our legal will make sure that we are not put in that situation."
After talking with Ginde in a meeting room, the investigators were taken to the clinic's pathological laboratory, where they were showed different aborted fetal parts in pie dishes and were asked to point out what fit their definition of intact specimens.
While showing the imposter buyers the remnants of the aborted babies, Ginde quips while looking at one pie dish, "It's a baby." Later on, a clinic medical assistant shows another pie dish and says, "Another boy," which has since influenced pro-lifers on twitter to start the hashtag trend #AnotherBoy.
After being shown a pair of intact kidneys, the investigator says: If we were doing like $50 to $75 per specimen, that'd be like $200 to $300 [total] and we'd be comfortable with that. But stuff like this, we don't want to be like just a flat fee of like $200."
Ginde replied: "I think the per-item thing works a little better because we can see how much we can get out of it."
As the Center for Medical Progress is reportedly set to release at least eight more undercover videos to add to the four that have already been released, Planned Parenthood has maintained that the videos have been highly edited and doctored to make the organization look bad. Additionally, Planned Parenthood insists that it follows all legal guidelines and does not profit off of compensation from baby body parts.
On Tuesday, the Los Angeles Superior Court banned the Center for Medical Progress from releasing any more videos that feature employees of California Planned Parenthood affiliate StemExpress in what has become the first legal action issued against the center.
The center's third video, which was released on Tuesday, shows a former StemExpress phlebotomist talking about how she was hired to draw blood but was instructed to dissect aborted babies.