Planned Parenthood case shows Kavanaugh supports abortion rights, pro-choice senator says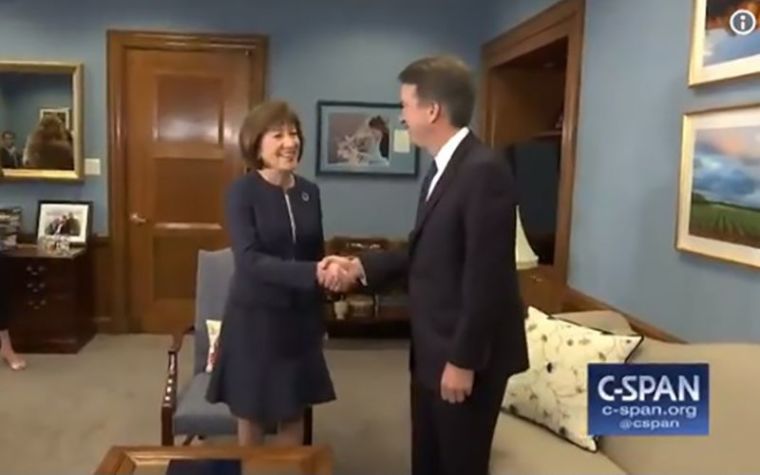 A pro-choice Republican senator who believes Justice Brett Kavanaugh will uphold abortion rights feels vindicated after the Court declined a Planned Parenthood funding case Tuesday. 
Senator Susan Collins of Maine, who was a key vote in favor of Kavanaugh's confirmation, reportedly told Bloomberg's Steven Dennis upon learning of the Supreme Court rejection of the appeal that "vindicated" ... "is the right word" to describe how she felt. 
In an order released Monday, the high court declined to hear an appeal in the cases of Andersen v. Planned Parenthood of Kansas and Mid-Missouri and Gee v. Planned Parenthood of Gulf Coast. Chief Justice John Roberts and Justice Kavanaugh were part of the six-judge majority.
Senator Collins had voted to confirm Kavanaugh earlier this year, explaining in a lengthy speech on the Senate floor that she believed Kavanaugh would not overturn the landmark Supreme Court decision Roe v. Wade or otherwise work to curb abortion access. 
"Justice Kavanaugh clearly demonstrated his independence and his respect for precedent and I am very pleased with the ruling and it demonstrates that the analysis that I presented was correct," Collins told Dennis on Tuesday. 
When Dennis asked whether the case indicated that Kavanaugh would not vote to overturn Roe, Collins replied, "I have always felt that way. Yes." 
Kavanaugh's joining the majority led many pro-life conservatives to express disappointment. However, conservatives like attorney and Dobson Policy Center Director Jenna Ellis have defended the newest member of the high court, arguing that the cases rejected were not truly about abortion.
"The bottom line is that this is NOT an abortion series of cases; it's a Medicaid issue," tweeted Ellis on Monday. "Though there was a diversity of opinion as to @Scotus taking up the matter for review, this does not signal Kavanaugh's position on Roe v. Wade."
Philip Klein of the Washington Examiner posted an update to a piece on Kavanaugh's decision, quoting a "Supreme Court watcher" who said the first vote for granting a hearing "would have taken place before Kavanaugh's appointment."
"I assume Kavanaugh did not want to be the late-arriving fourth vote for cert, and that's a reasonable call for a brand-new justice to make," read the update. 
"Less defensible is Roberts apparent concern about the atmospherics of taking a case with 'Planned Parenthood' in the title."
The National Sentinel also took issue with the claim that Kavanaugh was "guilty of abandoning conservative constitutionalists over the issue of abortion."
"At some point Kavanaugh may issue a ruling or take a side that conservative constitutionalists will dislike — it's bound to happen. But this case isn't one of those occasions," stated the conservative website.
"After the man's bitter confirmation hearings which involved heaps of Democrat chicanery and death threats to his family, we're fully prepared to cut the man some slack. He's not yet been a justice for three months."
Pro-life activists, including Americans United for Life President Catherine Glenn Foster, said in a statement that "the good news is that there are other similar cases pending in lower courts, which may give the Supreme Court another opportunity to decide this important issue."
"In the meantime, AUL will continue to fight to protect states from being forced to use their limited public funds to subsidize abortion businesses," continued Foster. 
Justice Clarence Thomas, joined by Justices Samuel Alito and Neil Gorsuch, authored a dissent in which he claimed the Court was avoiding the case due to Planned Parenthood being highly controversial. 
"So what explains the Court's refusal to do its job here? I suspect it has something to do with the fact that some respondents in these cases are named 'Planned Parenthood,'" Thomas wrote. 
Later he added, "Some tenuous connection to a politically fraught issue does not justify abdicating our judicial duty. If anything, neutrally applying the law is all the more important when political issues are in the background."