Planned Parenthood Chapter Deletes Tweet Calling for a Disney Princess 'Who's Had an Abortion'
Planned Parenthood Chapter Deletes Tweet Calling for a Disney Princess 'Who's Had an Abortion'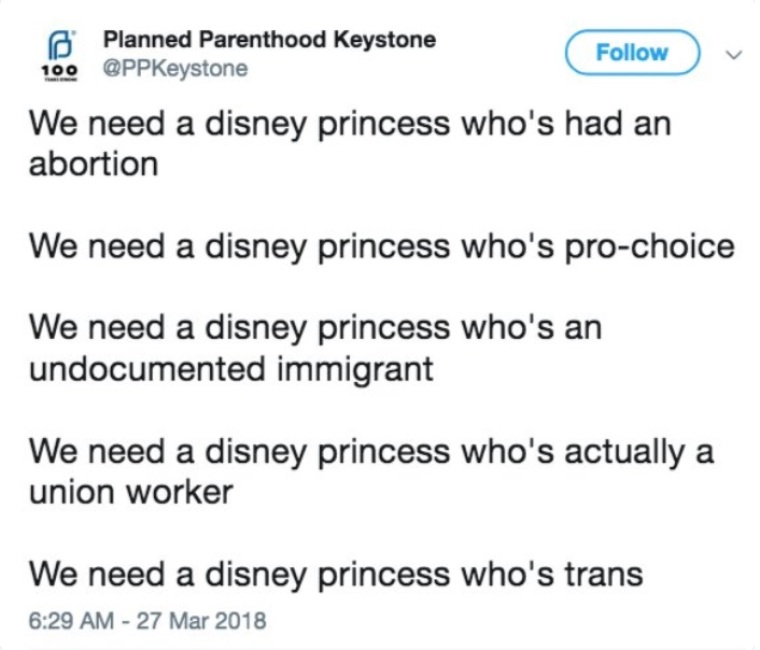 A chapter of Planned Parenthood Federation of America posted a tweet calling for a Disney movie to feature a princess "who's had an abortion" and one "who's trans," among other things. The post was deleted hours later.
The Pennsylvania-based Planned Parenthood Keystone posted the controversial tweet early Monday morning. It also said: "We need a disney princess who's pro-choice," "an undocumented immigrant" and "a union worker."
By Monday afternoon, after the controversial tweet received heavy backlash from several commenters, the Keystone account deleted it.
Lila Rose, founder and president of Live Action, called the tweet "despicable."
"Planned Parenthood is pushing abortion on kids as young as possible, selling lies that abortion is something 'good,' empowering, and even noble. @PPKeystone's call to promote abortions to impressionable little girls who admire Disney princesses is despicable," she said.
Ben Shapiro, conservative author and editor-in-chief of The Daily Wire, posted a response mocking the Keystone tweet.
"We need a Disney princess who stumps for sex-selective abortions on the taxpayer dime then lectures us about what small children they would have killed should watch for entertainment," replied Shapiro, getting more than 1,000 likes.
Conservative columnist Stephen Miller quipped that "We need a Disney princess who has been aborted."
David Burge of the rightwing blog Iowahawk referenced late-term Pennslyvania abortion provider Kermit Gosnell, who is currently serving multiple life sentences for having patients die at his clinic.
"It could be in Philadelphia so she can have a fairy Gosnell mother," Burge jokingly suggested.
The Media Research Center, a conservative media watchdog group, posted a critique of the tweet, describing the deleted comment as revealing "the extent of their pro-abortion extremism."
"Because the adult topics of having unprotected sex or chopping off your bits fit right in there with wearing pretty dresses and turning pumpkins into carriages," stated MRC.
The deleted Planned Parenthood post comes not long after it was announced that the nation's leading abortion provider will retain its approximately $500 million in federal funding.
It was recently announced that the omnibus spending bill kept the funding for Planned Parenthood, with Politico noting that the proposal to defund Planned Parenthood was one of many scrapped "last-minute attempts to tack on controversial policy riders ahead of a Friday deadline to fund the government."
Another controversial tweet recently posted by a Planned Parenthood chapter stated 11 times, "Some men have a uterus."