Planned Parenthood Shooter 'Obsessed With Ending of World,' Ex-Wife Wrote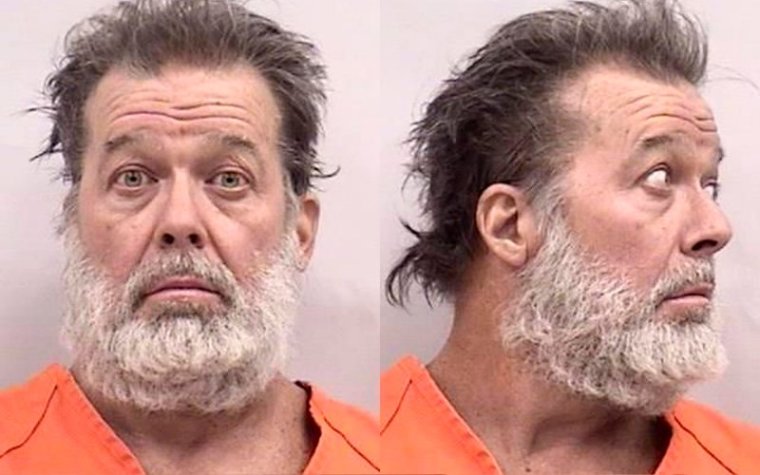 The former wife of Robert Dear, the man charged with killing three people at a Colorado Planned Parenthood clinic, once wrote that he described himself as an "extremely evangelistic" Christian, and was obsessed with "the end of the world."
"He claims to be a Christian and is extremely evangelistic, but he does not follow the Bible in his actions," Barbara Mescher Michaux wrote in an affidavit, according to CBS News. "He says as long as he believes he will be saved, he can do whatever he pleases. He is obsessed with the world coming to an end."
Dear is believed to have killed two civilians and a police officer with an assault-style rifle on Friday, and was arrested after an hours-long gunfight with police. He is being held without bail at Colorado Springs jail.
He reportedly told police "no more baby reports," supposedly referring to a string of undercover videos released earlier this year accusing Planned Parenthood of illegally selling babies' organs, issue and limbs for profit.
Dear has previously been arrested and charged with two counts of animal cruelty, but was found not guilty in a 2003 trial.
Michaux told NBC News in an interview that he had targeted another Planned Parenthood clinic more than 20 years ago, putting glue in the locks.
"For him to plan this and go there, he meant to go there," she added about his Friday attack on the clinic.
Dear's former wife said that the 57-year-old suspect was a "violent and isolated man," and filed to divorce him in 1993.
"Rob's anger erupts into fury in a matter of seconds and is alarming," she wrote. "You have to constantly monitor his emotional state."
Dear appeared before a judge for a brief video hearing on Monday, and said "no questions" when told about the first-degree murder charges he faces.
Planned Parenthood Executive Vice President Dawn Laguens claimed that anti-abortion rhetoric is to blame for the shooting, stating on Friday:
"It is offensive and outrageous that some politicians are now claiming this tragedy has nothing to do with the toxic environment they helped create," accusing both GOP presidential candidates Donald Trump and Carly Fiorina of "using this tragedy to repeat false claims about Planned Parenthood."
Vicki Cowart, president of Planned Parenthood of the Rocky Mountains, has also claimed that Dear "was motivated by opposition to safe and legal abortion."
Republican presidential hopeful Carly Fiorina denounced the linkage between pro-life rhetoric and the shooting as a partisan tactic in a recent interview on Fox News Sunday.
"This is so typical of the left to immediately begin demonizing a messenger because they don't agree with the message," said Fiorina.
"The vast majority of Americans agree. What Planned Parenthood is doing is wrong and that's why the vast majority of Americans are prepared not only to defund Planned Parenthood but also to stop abortion."