Mike Pompeo tells Regent grads of 'growing threat' to religious freedom: Don't compromise your beliefs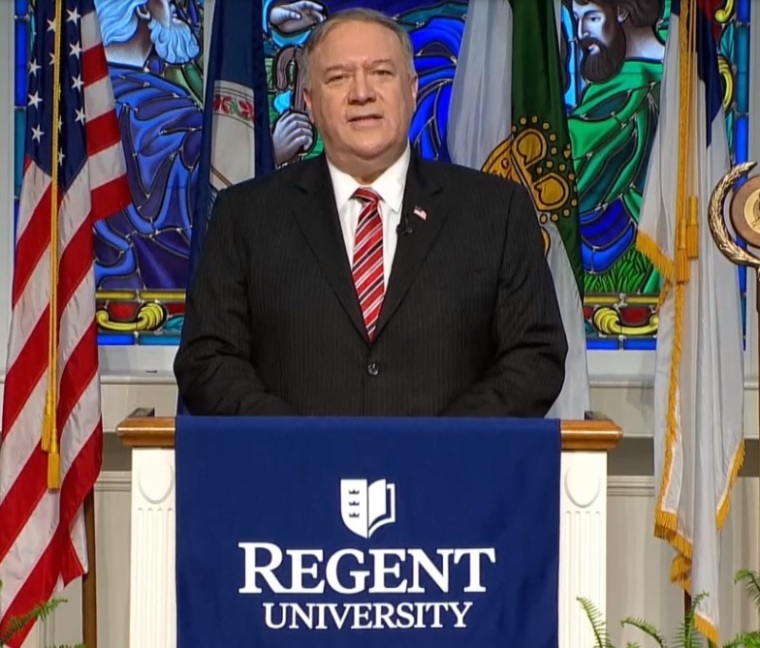 Former Secretary of State Mike Pompeo warned graduates of Regent University not to compromise their beliefs, even when there's a disconnect between being "a good Christian" and "a good American."
Pompeo gave the commencement address at the Virginia Beach, Virginia-based campus' Shaw Chapel to a virtual audience of approximately 2,400 graduates, reportedly the largest graduating class in Regent's history.
During his remarks, Pompeo told the graduates that he believed religious liberty, especially for "followers of Christ," was "increasingly under attack" in the United States "from our government."
"More and more, being a good follower of Christ is becoming less synonymous with being a good American, even though you know the history. The founding of our country is deeply rooted in Judeo-Christian values," Pompeo said.
"You will need the strength of Christ in you to achieve your goals and to live in a country where you can exercise your right to worship your God as you see fit."
"There's a growing threat right here, right in our backyard," he added. "No society can retain its legitimacy or a virtuous character without religious freedom."
"I worry that far beyond the battle lines of defense, economic or trade policy, that the battle to stop the divorce of America from its founding values is much more important."
Pompeo argued against trying to find a "middle ground" with those hostile to conservative Christianity or to "split the difference" with ideological enemies.
"There's no country that denies religious freedom, that can ever rightly claim to be good in some other way," he continued, saying Christians in the U.S. must exercise their religious liberty with "enormous vigor."
"We must defend it here at home … The effort to undermine our right to practice our faith is at the very pointy end of their atheistic spear."
While virtual, the ceremony included some in-person proceedings, including singing the national anthem, the presentation of the colors by U.S. Navy reservists, a balloon drop, and founder and chancellor Pat Robertson giving a charge to the class.
"There will be times when you will be based; there will be times when it looks like your life is not worth anything. There will be times when you look like a failure," Robertson said. "I want to charge you right now with the words of the Apostle Paul, 'I can do all things through Christ who strengthens me.' The other thing Paul said is: 'I know how to abound.'"
"So whether it is abased, or whether it's abounding, however your life takes you, I want you, as my charge to you today, I want to tell you that you can do all things through Christ who strengthens you."
Last month, Pompeo told The Christian Post in an interview that he believed the Biden administration was not prioritizing religious freedom issues, stressing that they had "disowned that work."
"For four years, the Trump administration and the State Department, when I was leading it, placed a real premium on working around the world to promote religious freedom," Pompeo told CP.
"We think it's important as an independent right, but we also know that where religious freedom is expanded, countries are often more prosperous and the people there are often more secure from their government."