Pope meets with Native American leaders, apologizes for Canadian residential school abuses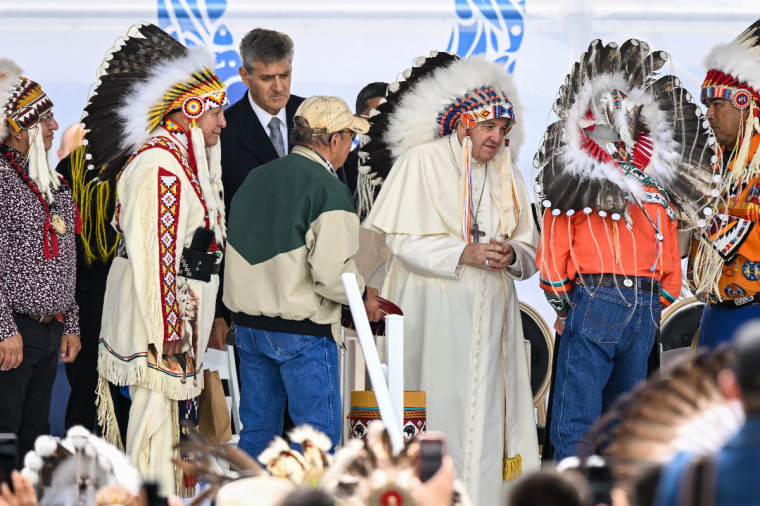 Pope Francis apologized to indigenous communities in Canada for the alleged abuses at government-supported Catholic residential schools as he met with Native American leaders on Monday. 
As part of his official trip to Canada, the pontiff addressed representatives of Native American tribes in Canada, including many survivors of the residential school system.
"I am here because the first step of my penitential pilgrimage among you is that of again asking forgiveness, of telling you once more that I am deeply sorry," said the pope, who issued an initial apology earlier this year. 
"I ask forgiveness, in particular, for the ways in which many members of the [Catholic] Church and of religious communities cooperated, not least through their indifference, in projects of cultural destruction and forced assimilation promoted by the governments of that time, which culminated in the system of residential schools."
While Francis noted that "Christian charity was not absent" in the residential school system and that "there were many outstanding instances of devotion and care for children," he concluded that "the overall effects of the policies linked to the residential schools were catastrophic."
"What our Christian faith tells us is that this was a disastrous error, incompatible with the Gospel of Jesus Christ," he continued. "It is painful to think of how the firm soil of values, language and culture that made up the authentic identity of your peoples was eroded and that you have continued to pay the price of this."
The pontiff also said that he considered the apology to be "not the end of the matter" but rather "the starting point," which will include "a serious investigation into the facts of what took place in the past and to assist the survivors of the residential schools to experience healing from the traumas they suffered."
Francis' trip to Canada came in response to recent revelations of abuse at Catholic schools tied to Canada's residential school system, including the claims of mass graves. 
Last year, anthropologist Sarah Beaulieu claimed 215 graves of indigenous children were discovered on the property of the Kamloops Indian Residential School in British Columbia, which closed in 1978. Her ground-penetrating radar found areas that showed soil disturbance that she assessed to be graves. She later revised the number to 200, but added that only excavation and forensic investigation could determine what the radar found. 
No excavations were ever done and none are planned, however. 
Soon after, another alleged mass grave of 700 individuals near the former Marieval Indian Residential School in Saskatchewan made headlines.
The discoveries prompted a wave of vandalism against Catholic churches and other denominations and demands from Prime Minister Justin Trudeau that Pope Francis come to Canada and offer an apology for the past abuses.
"I have spoken personally directly with His Holiness Pope Francis to press upon him how important it is not just that he makes an apology but that he makes an apology to indigenous Canadians on Canadian soil," said Trudeau, himself a Catholic, at a press conference in June 2021.
"I know that the Catholic Church leadership is looking and very actively engaged in what next steps can be taken."
Some scholars have been skeptical about the claims of mass graves.
Jacques Rouillard, professor emeritus in the Department of History of the Université de Montréal, released a review of the mass grave claims in the Dorchester Review in which he said the Marieval site is part of an official cemetery.
"According to the register of baptisms, marriages and burials from 1885 to 1933, there are certainly graves present on site of children who died at the residential school, but also those of many adults and children under five years of age from the surrounding area," he wrote.
Rouillard added, "As residential school cemeteries have been abandoned, neglected, and even forgotten after their closure, they have blurred into the background. ... The Commission rightly proposed that they be documented, maintained, and protected."
"It is hard to believe that a preliminary search for an alleged cemetery or mass grave in an apple orchard on reserve land near the residential school of Kamloops could have led to such a spiral of claims endorsed by the Canadian government and repeated by mass media all over the world. It gives a terrible and simplistic impression of complex issues in Canadian history."
Michael Gryboski released the novel "The Enigma of Father Vera Daniel." For more information, click
here.