Pope Benedict Becomes First Pontiff to Retire in 600 Years; Reactions From Around the World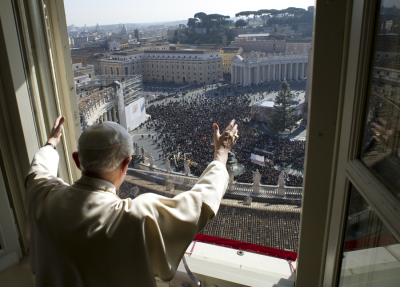 World leaders are reacting Monday to the announcement from the Vatican that Pope Benedict XVI will be resigning at the end of this month; making him the first pope to resign in nearly 600 years.
The official announcement from the Vatican on Monday revealed that the 85-year-old pontiff felt he was no longer able to carry out his duties as head of the Catholic Church, due to his deteriorating health.
"After having repeatedly examined my conscience before God, I have come to the certainty that my strengths, due to an advanced age, are no longer suited to an adequate exercise of the Petrine ministry," Pope Benedict XVI statement explained.
The last pope to resign was Pope Gregory XII, who left his post in 1415 as part of a deal that went to end the Great Western Schism concerning competing papal prospects.
Pope Benedict's sudden departure means that the Vatican will hold a conclave to elect a new pope. It has been rumored that officials hope to elect a new pope before the start of the holy season on March 14, however, the duration of the conclave is not set as Catholic leaders will continue to meet until a successor is elected.
There are several top candidates from both Africa and Latin America, but no clear front-runner has emerged yet.
Born Joseph Aloisius Ratzinger, Pope Benedict became the 265th pope after being elected on April 19, 2005, at the age of 78 following the death of Pope John Paul II. Benedict, who was ordained into ministry in 1951, is the ninth German pope, and was a prominent figure at the Vatican for decades before he took up the position as pontiff.
The news has come as a surprise to political and religious leaders around the world, and many have immediately come out to offer their reactions to the announcement.
Archbishop of Canterbury Justin Welby
"It was with a heavy heart but complete understanding that we learned this morning of Pope Benedict's declaration of his decision to lay down the burden of ministry as Bishop of Rome, an office which he has held with great dignity, insight and courage."
Vatican spokesman Federico Lombardi
"You will no doubt have many questions but I believe we will need a few days to organise ourselves because this announcement has taken us all by surprise."
Archbishop of Westminster, England, Vincent Nichols
"Pope Benedict's announcement today has shocked and surprised everyone. Yet, on reflection, I am sure that many will recognize it to be a decision of great courage and characteristic clarity of mind and action. I salute his courage and his decision."
Italian Prime Minister Mario Monti
"I deeply respect the decision of Pope Benedict XVI, immense and unexpected as it is I am sure that this decision has been inspired by the will to serve the Church to the end and to make sure that it will be guided steadfastly in the future as well.

Polish Catholic Church Bishop Wojciech Polak
"But Pope Benedict XVI had already reflected several times on the question of whether, at his advanced age, he had the strength to carry out properly his duties as the successor of Saint Peter."
Cardinal Peter Turkson of Ghana
"People are free to speculate and people are free to make their own judgments, and I suppose if it comes to looking for leadership then I think the thing we should be doing is rather pray to God, the leader and owner of this Church, to give a leader who is fit to lead this group at this point in time and in history. So for me I think this is time for a lot more prayer than speculation."
German Chancellor Angela Merkel
"If the Pope himself, after thorough reflection, has come to the conclusion that he does not have the strength any more to carry out his duties, then this has my utmost respect. He is and remains one of the most significant religious thinkers of our time."

Scottish Cardinal Keith O'Brien
"Like many people throughout the world, I was shocked and saddened to hear of the decision by Pope Benedict XVI to resign. I know that his decision will have been considered most carefully and that it has come after much prayer and reflection."
Archbishop of Pretoria William Slattery
"This decision evokes in us a certain amount of sadness, but we accept that this decision, not taken lightly, is best for both Pope Benedict and the Church. We wish to express our deep admiration for both his ministry and for his courage in facing the limitations of his age. We wish to assure Pope Benedict of our prayers and will commit our prayers for the Church as we discern the will of the Holy Spirit for the continuity of leadership of the Church."
Archbishop of New York Timothy Dolan

"The Holy Father brought the tender heart of a pastor, the incisive mind of a scholar and the confidence of a soul united with His God in all he did. His resignation is but another sign of his great care for the Church. We are sad that he will be resigning but grateful for his eight years of selfless leadership as successor of St Peter."

Diocese of Brooklyn Bishop Nicholas DiMarzio
"For that job, they're looking for someone who has the intellectual capacity, the spiritual and also the physical capacity. He's basically too old to do what is required. If you're 85 and you're expected every day of the week to be doing something, it's not so easy. I think he did all he could do as Pope, but now it's time for someone else to take it on."