Pope Francis' Burger King Visit 'a Blessing,' Says Manager Who's Seeing Boost in Sales After Pontiff Prayed at Home of the Whopper
Pope Francis' Burger King Visit 'a Blessing,' Says Manager Who's Seeing Boost in Sales After Pontiff Prayed at Home of the Whopper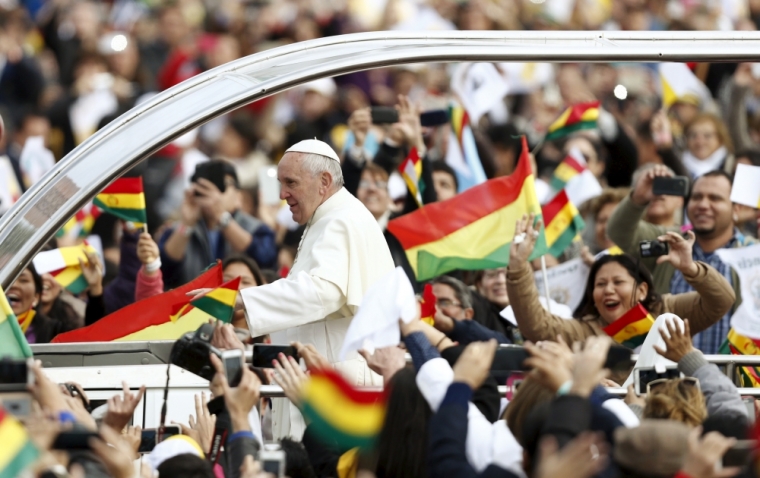 A manager at a Burger King in Bolivia, where Pope Francis changed prior to giving an outdoor mass on Thursday, called the pontiff's brief visit "a blessing," after seeing a boost in sales at the fast-food chain.
Christian Vaca, who's the assistant manager of a Burger King in Bolivia, said Thursday that sales were up after the Argentine-born leader of the Roman Catholic church used their space as a sacristy and a location to store the chair he sat in during the mass, along with other items used during the service.
"Business has been hopping since he was here," Vaca told ABC News. "It's really a blessing."
The pope prayed over his chasuble, vestments, personal chair and altar at the restaurant, which had been cleared out for his visit, before giving mass to hundreds of thousands at Christ the Redeemer Square in Santa Cruz. He was accompanied by his entourage, who reportedly reserved the spot three days in advance, and white curtains draped the windows to ensure privacy for the pontiff.
"[They] asked for help because this was an appropriate place and we had closed," said manager Alfredo Troche, who noted that Burger King is located within close proximity to Christ the Redeemer Square.
The world famous burger chain thanked the pontiff in a Facebook post shortly after his visit.
"Welcome Pope Francis, thank you for choosing the restaurant BK El Cristo as your sacristy. Burger King Bolivia receives you with open arms," the post read.
During his homily, Francis, who became the First Latin American pope in 2013, criticized capitalism in a bid to highlight the struggles of the poor, which has been the theme and focus of his eight-day tour of South America.
"The service of the common good is left behind," he said in his address at the Second World Meeting of Popular Movements, which is a global body of activists working to assist the poor and jobless.
"Once capital becomes an idol and guides people's decisions, once greed for money presides over the entire socioeconomic system, it ruins society, it condemns and enslaves men and women, it destroys human fraternity, it sets people against one another and, as we clearly see, it even puts at risk our common home."
He also asked for forgiveness for "grave sins" committed by the Roman Catholic Church against native Americans during the so-called "conquest of America." Bolivia's President, Evo Morales, was present during the pontiff's passionate and lengthy speech.
"Some may rightly say, 'When the pope speaks of colonialism, he overlooks certain actions of the church,'" Francis said. "I say this to you with regret: Many grave sins were committed against the native people of America in the name of God."
He continued: "I humbly ask forgiveness, not only for the offense of the church herself, but also for crimes committed against the native peoples during the so-called conquest of America."