Pope Francis' Chair for Special Mass Built by Day Laborers Unveiled at NYC's Madison Square Garden
Pontiff to Lead 20,000 in Mass at Madison Square Garden on Sept. 25 During US Apostolic Journey
A chair fit for the pope and made by a group of day laborers has been unveiled at New York City's Madison Square Garden, where Francis is scheduled to lead about 20,000 people in mass later this month.
The brown wooden chair with white backing was unveiled Wednesday by a beaming Cardinal Timothy Dolan, the archbishop of New York.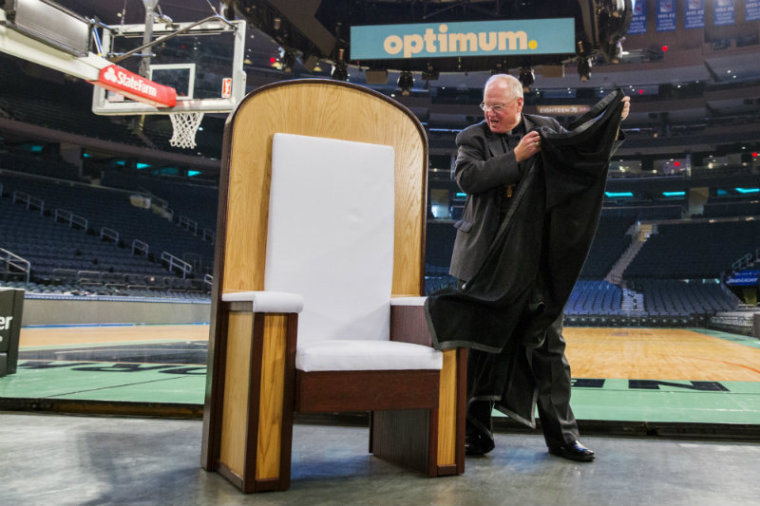 The simple chair was constructed by day laborers affiliated with Don Bosco Workers and Obreros Unidos de Yonkers, reportedly under the direction of Brother Salvatore Sammarco, of the Salesians of Don Bosco based in Florida.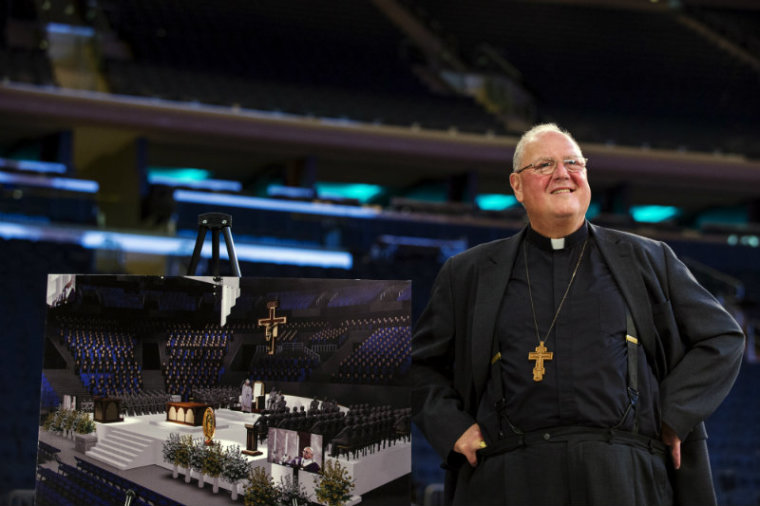 "In keeping with Pope Francis' emphasis on respecting workers, immigrants, and those on the margins of society, Dolan selected Don Bosco Workers and Lincoln Hall Boys Haven to craft these items for the holy father's mass," the archdiocese of New York revealed previously in a press statement.
The young men from Lincoln Hall Boys Haven had the honor of building the altar and lectern to be used during the papal mass at the Garden on Sept. 25. Pope John Paul II also held mass at Madison Square Garden when he visited New York City in 1979, and Pope Benedict, who visited the Big Apple in 2008, held public mass at Yankee Stadium.
The chair that Francis will be using during the Madison Square Garden mass is similar the kinds of seats he usually opts for over the traditional ornate throne associated with the papacy, which was noted in 2013 when the Argentinian Jesuit cardinal became head of the Roman Catholic Church.
While in New York City, the pope will visit with 9/11 families and hold a multi-religious ceremony at Ground Zero and at the 9/11 Memorial and Museum, participate in evening prayers at St. Patrick's Cathedral, address the United Nations General Assembly, and visit Our Lady Queen of Angels School in East Harlem. It was also recently confirmed that the pontiff will participate in a procession through Central Park, an event that will be accessible for ticket holders.
In addition to holding events in New York City, Francis will visit the faithful in Philadelphia and Washington, D.C., as part of his first apostolic journey to the U.S. The pope, who leads more than 1.2 billion Roman Catholics worldwide, will stop in Cuba and meet with local families and President Raul Castro before heading to the states.
Francis is the fourth pope to travel to the U.S. and his "visit will be the tenth time a pope has made an apostolic journey" to the states, according to the U.S. Conference of Catholic Bishops, which is overseeing the pope's U.S. itinerary. His visit in the states runs from Sept. 22-27. Learn more about the papal visit at uspapalvisit.org.