Pope Francis Hosts Angelina Jolie at the Vatican and Screens Her Film 'Unbroken'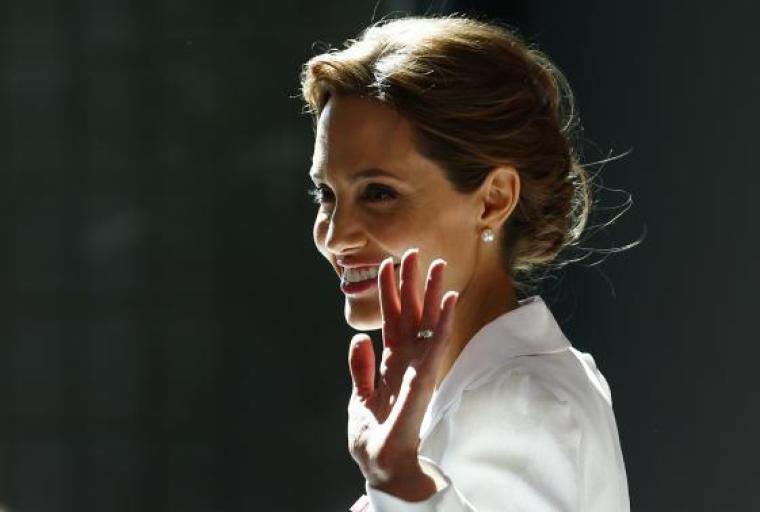 Angelina Jolie paid a visit to the Vatican and hosted a screening of her latest film "Unbroken" for Pope Francis.
Released on Christmas Day, Jolie's latest directorial project follows the story of Olympian and WWII vet Louis Zamperini who survived 47 days stranded at sea and two years in a Japanese POW camp. On Thursday morning, the Oscar-winning actress arrived in Rome where she was able to share the film with the Pontiff.
"Being invited with my film to the Vatican is an honor and a great tribute to the story that I have told in 'Unbroken,'" the 39-year-old star said, according to a statement from Universal Pictures. "The story of the hero Louis is a great example of strength and forgiveness."
Pope Francis, who invited Jolie to the Vatican, screened "Unbroken" on behalf of the Political Academy of Sciences.
"Pope Francis, aware of the incredible life story of Louis Zamperini, graciously welcomed the opportunity to view the film and is expected to attend the screening at the Casina Pio IV, headquarters of the Pontifical Academy of Sciences and Pontifical and Social Sciences," according to Universal Pictures Italia.
Also in attendance at the "Unbroken" screening at the Vatican was Zamperini's son Luke. Earlier reports suggested that Jolie's husband Brad Pitt would also attend, but a "last minute change" prevented him from doing so. However, the couple's eldest daughters Zahara and Shiloh joined their mother on the trip to Rome.
It comes as a surprise that Pope Francis screened "Unbroken" considering the head of the Catholic Church has turned down similar opportunities in the past, and he turned down a "Noah" screening just last year. Although Pope Francis did not watch "Noah" starring Russell Crowe, the Pontiff reportedly met the actor and offered him a blessing.