Pope Francis: I'll Likely Hold Position for Only Few More Years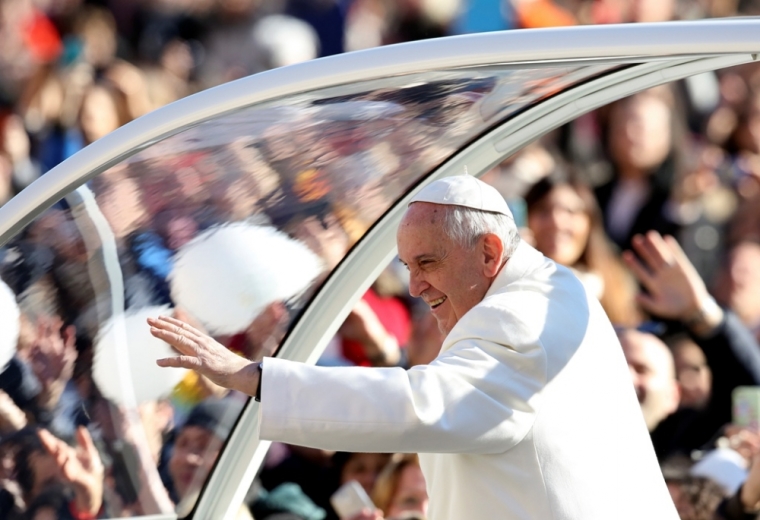 Pope Francis said Friday he doesn't mind being pope, and that he thinks his papacy will not last for more than four or five years. He also said he would like to go to a pizzeria for a pizza without attracting a big crowd.
While the Roman Catholic pope traditionally serves until death, Francis told a Mexican TV station, Televista, that he feels "my pontificate will be brief: four or five years; I do not know, even two or three."
Francis noted that two years have already passed since his election in March 2013 after Pope Benedict XVI stepped down, according to Britain's Independent newspaper.
"It is a somewhat vague sensation," he explained. "Maybe it's like the psychology of the gambler who convinces himself he will lose so he won't be disappointed and if he wins, is happy. I do not know. But I feel that the Lord has placed me here for a short time, and nothing more… But it is a feeling. I always leave the possibility open."
The 78-year-old pontiff also said, "I do not mind" being a pope, according to CNN.
Francis suggested he would like to be in public without attracting a huge crowd.
"The only thing I would like is to go out one day, without being recognized, and go to a pizzeria for a pizza," he said.
Francis also described his feelings when he stood on the Vatican's Papal balcony for the first time. "I did not know what to say," he said. "And you are the witnesses of everything else. I deeply felt that a minister needs the blessing of God, but also that of his people. I did not dare to ask the people to bless me. I simply said: 'Pray that God may bless me through you'."
The pope last year encouraged priests to ask themselves some basic questions. "What is the place of Jesus Christ in my priestly life? Is it a living relationship, from the disciple to the Master, from brother to brother, from the poor man to God, or is it a somewhat artificial relationship... that does not come from the heart?" the Vatican Radio quoted Francis as saying in his homily at Casa Santa Marta in January 2014.
"We are anointed by the Spirit, and when a priest is far from Jesus Christ he can lose this unction. In his life, no: essentially he has it... but he loses it. And instead of being anointed he ends up being smarmy," the pope added at the time.
"And how damaging to the Church are smarmy priests!" the leader of the world's 1.2 billion Roman Catholics went on to say. "Those who put their strength in artificial things, in vanity, in an attitude... in a cutesy language... But how often do we hear it said with sorrow: 'This is a butterfly-priest,' because they are always vain... [This kind of priest] does not have a relationship with Jesus Christ! He has lost the unction: he is smarmy."