Pope Francis Meets Atheist Physicist Stephen Hawking at Vatican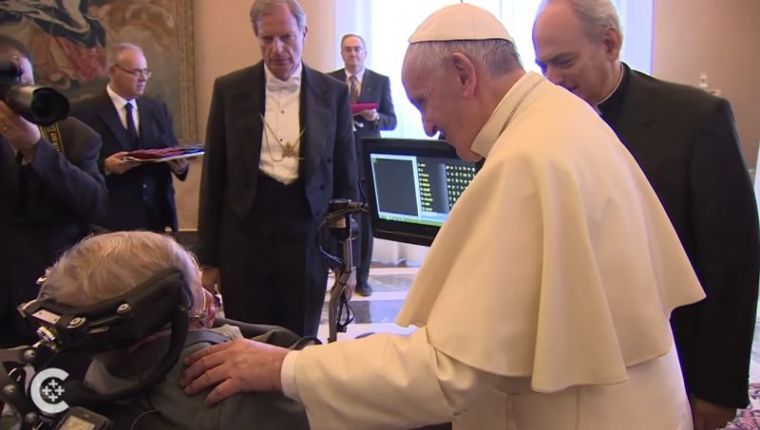 Pope Francis met with atheist theoretical physicist Stephen Hawking on Monday at a Vatican conference for globally-renowned scientists, in which he praised scientific accomplishments and called for collaboration with the Christian community to address the issue of climate change.
Francis addressed renowned scientists who gathered in Rome for a five-day session of the Pontifical Academy of Sciences, a supranational academy created in 1936 by Pope Pius XI to help promote the advancement in various scientific and mathematical studies.
The five-day session, which ended on Tuesday, was titled "Impacts of Scientific Knowledge and Technology on Human Society and its Environment."
According to the Daily Mail, the 79-year-old pontiff told the group of scientists and experts that it is more vital than ever that they work with the religious community to create solutions for serious issues facing the world, including climate change.
Additionally, the Argentine-born pope called on the scientists to work "free of political, economic or ideological interests."
"We are not custodians of a museum and its masterpieces that we have to dust off every morning, but rather collaborators in the conservation and development of the existence and biodiversity of the planet and human life," Pope Francis said, according to Catholic Herald.
Francis added that if the science community and religious community can cooperate, it could help to foster a "normative system" of "inviolable limits" that "ensures the protection of the ecosystem."
He called on them to help create a "a cultural model to tackle the crisis of climate change and its social consequences so that enormous productive capacities are not reserved only to the few."
"Never before has it been so clear that science's mission must be at the service of a global ecological alliance," the Pope said, according to Catholic News Service. "At the same time there is a renewed alliance between the scientific community and the Christian community, which we are seeing a convergence of their different approaches, this shared aim of protecting our common home is threatened by ecological collapse and consequently by poverty and social exclusion."
The pope stressed that the world must enact environmental protections before it is too late and "irreversible harm is caused not only to the environment, but also to our societies, to democracy, to justice and freedom."
Francis additionally warned against people "thinking we are the owners and masters of nature, authorised to plunder it without any consideration for its secret potential and evolutionary laws, as if it were an inert substance at our disposal, causing, among other things, a very serious loss of biodiversity."
The pontiff also pushed back against beliefs that have "disregarded" the "well-founded scientific opinion" about the state of the environment and criticized governments for tending to care more about business and economics than the health of the environment.
He concluded his address by offering his blessings to the scientists.
During the Monday session, the 74-year-old Hawking, who is wheelchair bound due to early-onset ALS, got to personally meet the pope.
The Daily Mail reports that Francis warmly greeted Hawking by touching him on the shoulder and also praised Hawking for his brilliant work.
This is not the first time that Hawking, who has been a member of the academy since 1986, has met a sitting pope.
Hawking had previously met with Popes Paul VI, John Paul II and Benedict XVI.
In 2014, Hawking came out publicly and declared in an exclusive interview with a Spanish newspaper that he was an atheist and believed that science offered more of an explanation to the world's mysteries than a deity can.
"Before we understand science, it is natural to believe that God created the universe," Hawking said at the time. "But now science offers a more convincing explanation. What I meant by 'we would know the mind of God' is, we would know everything that God would know, if there were a God, which there isn't. I'm an atheist."