Pope Francis More Popular Than Obama on Twitter, Leading Global Study Finds; Pontiff Named 'Most Influential' World Leader 3-Years Running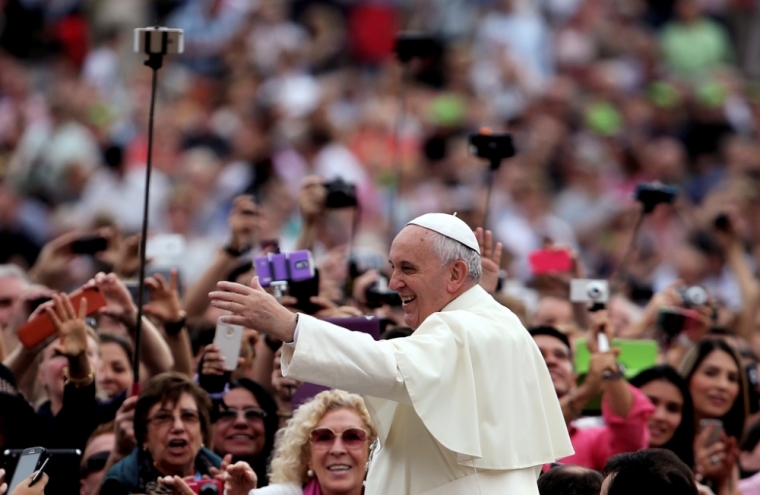 A study on Twitter accounts of world leaders has determined that Pope Francis is the most influential user by the rate of his average retweets and favorites, which is eight times higher than U.S. President Barack Obama.
"Pope Francis @Pontifex is by far the most influential tweep with 9,929 retweets for every tweet he sends on his Spanish account and 7,527 retweets on average on his English account," the Twiplomacy study revealed.
Obama was found to have the most Twitter followers, with close to 57 million people following his account, while Francis' combined Twitter accounts in various languages have a little over 19.5 million in total.
When it comes to how many people re-post or retweet and favourite the messages of the world leaders, however, Obama's tweets are retweeted on average only 1,210 times, significantly fewer than Pope Francis' 9,929 average retweets.
The Vatican leader was named "most influential" by the study in 2014 and 2013 as well.
Francis usually posts a message once every few days, most commonly calling on Christians for prayer, showing solidarity with victims of major world events, or speaking out on issues such as climate change.
"Every Christian community must be a welcoming home for those searching for God, for those searching for a brother or sister to listen to them," reads Francis' latest tweet from Tuesday.
Last week on Earth Day, he posted: "We need to care for the Earth so that it may continue, as God willed, to be a source of life for the entire human family" — a message that has been favourited so far over 13,400 times.
The @Pontifex account comes in several different languages, including English, Spanish, Arabic, French, German, Italian, Polish, Portuguese and Latin.
The study found that Indian Prime Minister Narendra Modi, Turkey's President Recep Tayyip Erdoğan, and the White House's official account also make up the list of largest Twitter follower bases. In terms of the most influential list, Saudi Arabia's King Salman and Venezuelan President Nicolas Maduro trailed Francis' account.
Twiplomacy identifies itself a the leading global study of world leaders on Twitter. It says that it identified 669 Twitter accounts of heads of state and government, foreign ministers and their institutions in 166 countries worldwide through global public relations and communications firm Burson-Marsteller.