Pope Francis Performs 'Miracle' In Naples; Turns Dry Blood to Liquid (Video)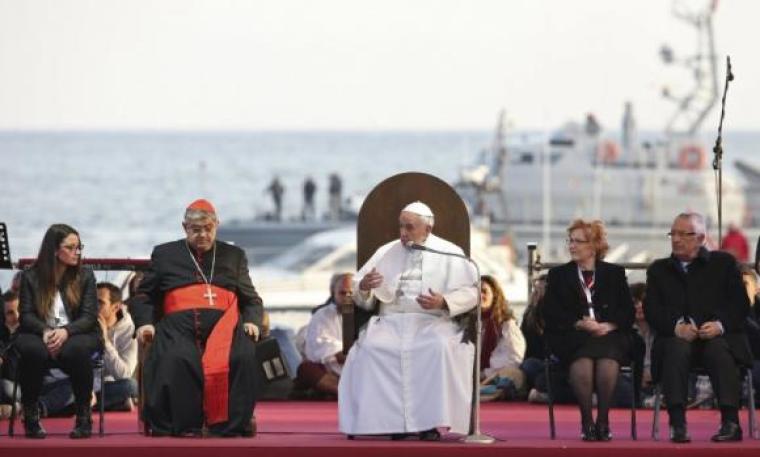 Pope Francis has been credited with performing a miracle in Naples on Saturday by the Archbishop of Naples, Cardinal Crescenzio Sepe.
During a visit to Naples Cathedral, the pontiff venerated a vial of blood belonging to the Neapolitan patron St. Gennaro, who was once the bishop of Naples until he was martyred in 305, and it began to liquify. The dry blood turned to liquid after the pontiff prayed the "Our Father" over it and kissed the relic, prompting the Archbishop of Naples, Crescenzio Sepe, to declare the rare phenomenon a miracle.
"The blood has half liquified, which shows that Saint Januarius loves our pope and Naples," said Sepe whilst showing the sealed glass ampoule to congregants.
The pontiff then joked about his failure to secure the full love of St. Gennaro, known in English as St Januarius.
"The bishop just announced that the blood half liquefied. We can see the saint only half loves us. We must all spread the Word, so that he loves us more!" the pontiff said.
The blood of St. Gennaro, who was beheaded during the persecution of Christians under the Roman Emperor Diocletian in 305, last liquefied in the presence of Pope Pius IX in 1848. Back in the day it was common for Christians to collect the blood of their martyrs and store it with the corpse of the deceased.
Believers say that traditionally the relic liquefies three times a year after much prayer on Sept. 19, the saint's feast day; Dec. 16, and the Saturday before the first Sunday of May. In some instances, there have been reports of this happening up to 18 times a year.
While addressing religious leaders at the cathedral, the pontiff touched on the importance of not giving into temptation and he also likened gossip to terrorism. He had a special message for seminarians.
"If Jesus is not central, postpone the ordination. If you are not sure that Jesus is the center of your life, wait a little longer," he said.
Also while in Naples, the pontiff met with 8,000 people, spoke out against the mafia and corruption, and shared a meal with 120 prison inmates.