Pope Francis Receives Palestinian President Abbas as 'Angel of Peace'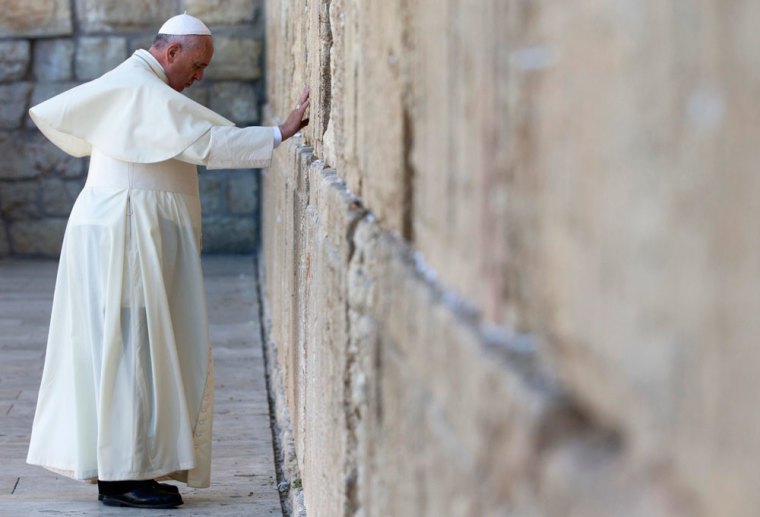 Pope Francis called Palestinian President Mahmud Abbas "an angel of peace," as the two met in the Vatican Saturday, days after the Catholic Church officially recognized a Palestinian state in a treaty, which "disappointed" Israel.
Presenting a medallion bearing an image of the angel of peace, "which destroys the evil spirit of war," to Abbas, Francis stated, "I thought of you because you are an angel of peace," according to Agence France Presse.
Abbas also had a gift for the pope: religious relics related to two 19th-century nuns with Palestinian roots who are scheduled to be canonized in the Vatican Sunday.
Francis and Abbas expressed their hopes for a resumption of peace negotiations between Palestine and Israel, according to Vatican Radio.
"To this end the wish was reiterated that, with the support of the international community, Israelis and Palestinians may take with determination courageous decisions to promote peace," a Vatican statement said.
"During the cordial discussions, great satisfaction was expressed for the accord reached on the text of a comprehensive Agreement between the Parties on various essential aspects of the life and the activity of the Catholic Church in Palestine, to be signed in the near future," the statement added, referring to the treaty, which recognized "the State of Palestine."
"Yes, it's a recognition that the state exists," the Vatican spokesman, the Rev. Federico Lombardi, told reporters Wednesday about the treaty, which concerns the Catholic Church's activities in that territory.
The Israeli Foreign Ministry responded to the treaty by saying it was "disappointed," explaining that it would hinder the peace process.
"Israel heard with disappointment the decision of the Holy See to agree a final formulation of an agreement with the Palestinians including the use of the term 'Palestinian State,'" a ministry official was quoted as saying. "Such a development does not further the peace process and distances the Palestinian leadership from returning to direct bilateral negotiations. Israel will study the agreement and consider its next step."
The ministry added, "Israel will study the agreement and will consider its steps accordingly."
Even after the U.N. General Assembly recognized a Palestinian state in 2012, the Vatican – under the leadership of Pope Francis' predecessor – welcomed the decision, which was opposed by Israel and the United States. Since then, the Vatican has referred to the territory as "State of Palestine."
At a ceremony attended by Israeli President Shimon Peres and Palestinian President Abbas in the Vatican Gardens at the Vatican last June, Francis said God alone can bring peace to the Holy Land and that it is the "evil one" who is blocking it.
"More than once we have been on the verge of peace, but the evil one, employing a variety of means, has succeeded in blocking it," the pope said at the time. "That is why we are here, because we know and we believe that we need the help of God."