Pope Francis Sends Cardinal to Iraq in Show of Support for Thousands of Fleeing Christians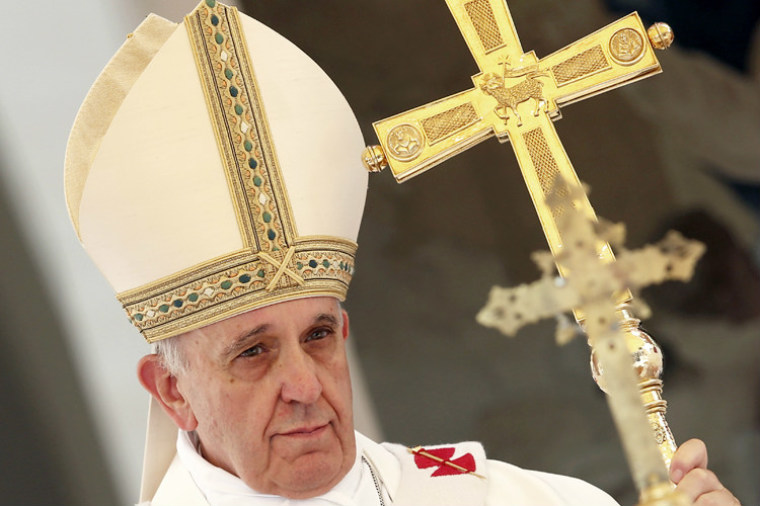 Pope Francis is sending a Cardinal to Iraq to offer support to Christians fleeing the country amid intensified persecution from Islamic militant group ISIS.
Cardinal Fernando Filoni, a former papal nuncio to Iraq, will go to the country to "show the Pope's solidarity with the suffering of the population," spokesman Federico Lombardi said, according to the American Foreign Press.
Pope Francis has been vocal about his support for Christians being persecuted and has called for the Catholic Church to offer help however it can.
The majority of Christians in the region are Chaldeans, which is part of the Catholic Church. In 2003, prior to the U.S.-led invasion on Saddam Hussein's Iraq, there were around 1.5 million Christians in the country, but that number has declined rapidly over the past decade amid intensifying persecution. It is now estimated there are just 350,000 to 450,000 Christians remaining in the country.
"The Holy Father is following with deep concern the dramatic news reports coming from northern Iraq, which involve defenseless populations," Father Lombardi said in an official statement yesterday. "Christian communities are particularly affected: a people fleeing from their villages because of the violence that rages in these days, wreaking havoc on the entire region."
"At the Angelus prayer on July 20, Pope Francis cried with pain: '[O]ur brothers and sisters are persecuted, they are pushed out, forced to leave their homes without the opportunity to take anything with them. To these families and to these people I would like to express my closeness and my steadfast prayer. Dearest brothers and sisters so persecuted, I know how much you suffer, I know that you are deprived of everything. I am with you in your faith in Him who conquered evil!'" Lombardi continued.
As Christians are fleeing persecution and attempting to make their way to Kurdish villages, where they have been offered refuge, prayers are going up around the world. Tomorrow, August 9, a prayer vigil will be held in front of the White House and is meant to show support for oppressed Christians in Iraq and other religious minorities in the country.
"It is unspeakable what is happening to Christians, Yazidis and religious minorities in Iraq," Rev. Patrick Mahoney of the Christian Defense Coalition said. "This genocide has taken the lives of thousands of people with many facing starvation, beheading, torture, murder, and sexual assault while the world watches on in silence. Today, thousands of families and children have been driven from their homes by ISIS and are hiding in mountains, facing starvation and torture for their religious beliefs."
"We are gathering at the White House on Saturday, to first pray and cry out to God for the protection of the persecuted church and other religious minorities in Iraq. Throughout history, prayer has sustained the needy in times of violence and persecution. We cannot be silent or indifferent!" Rev. Mahoney added.