Pope Francis Spends Christmas Night on Telephone With Persecuted Iraqi Refugees, Tells Them They Are 'Like Jesus on the Night of His Birth'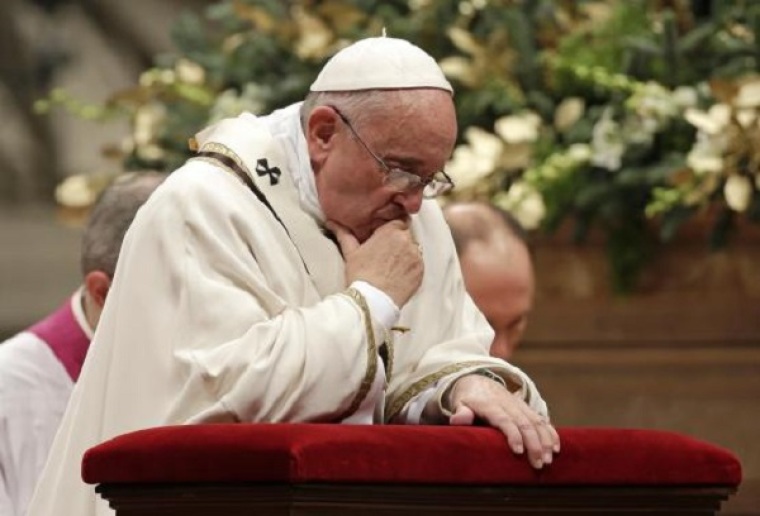 Pope Francis spent Christmas night on the telephone with persecuted refugees in Kurdistan who've been targeted by terror group ISIS, telling them that they're "like Jesus on the night of His birth" because of the dangers they face. The Vatican leader attempted to offer the people comfort, and told them that they're "close to his heart."
"You are like Jesus on the night of his birth when he had been forced to flee. You are like Jesus in this situation, and that means we are praying even harder for you," Francis told the refugees in a telephone call to Father Benoca, the head of the Christian community in the Ankawa Refugee Center near Erbil.
"Dear brothers, I am very, very close to you with all of my heart. May the Lord caress you with His tenderness."
Vatican Radio reported that the call was broadcast live by an Italian Catholic TV station.
Thousands of refugees have sought shelter in Erbil, and many more have fled across the region, seeking refuge from ISIS. The militant group has driven entire Christian communities out of cities in Iraq and Syria, implementing Islamic law and threatening followers of Christ with death if they do not convert to Islam.
In his Christmas Day speech at the Vatican, Francis asked Christ "to look upon our brothers and sisters in Iraq and Syria, who for too long now have suffered the effects of ongoing conflict, and who, together with those belonging to other ethnic and religious groups, are suffering a brutal persecution."
The Roman Catholic Church leader also asked Christ to open hearts to trust in dialogue for peace between Israelis in Palestinians; to protect all who are suffering in Ukraine; to grant peace in Nigeria, which is also under constant attack by Islamic militants; and show closeness to all the victims of the Ebola epidemic in West Africa.
"Dear brothers and sisters, may the Holy Spirit today enlighten our hearts, that we may recognize in the infant Jesus, born in Bethlehem of the Virgin Mary, the salvation given by God to each one of us, to each man and woman and to all the peoples of the earth. May the power of Christ, which brings freedom and service, be felt in so many hearts afflicted by war, persecution and slavery," Francis continued.
"May this divine power, by its meekness, take away the hardness of heart of so many men and women immersed in worldliness and indifference, the globalization of indifference. May his redeeming strength transform arms into ploughshares, destruction into creativity, hatred into love and tenderness."
Francis has often reached out to refugees fleeing ISIS, and in September made a personal phone call to an Iraqi priest who had written to tell him that refugees are in a "miserable" state.
Fr. Behnam Benoka recalled the pontiff's phone call: "He said he was very sorry for everything that was happening to us and he said, 'Know that I am with you in prayer always. I never forget you.'"