Pope Francis Urges Church to 'Pray for Peace in World'
Pope Francis Urges Church to 'Pray for Peace in World'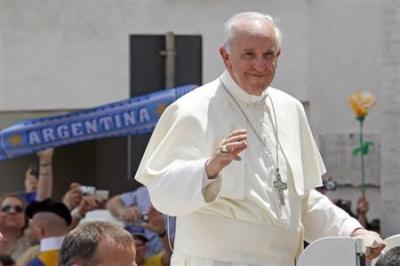 Pope Francis has called for a peace vigil on Saturday, urging the world to pray and fast for peace in war-stricken Syria.
"I appeal strongly for peace, an appeal which arises from the deep within me," Pope Francis said in his weekly remarks on Sunday.
"There are so many conflicts in this world which cause me great suffering and worry, but in these days my heart is deeply wounded in particular by what is happening in Syria and anguished by the dramatic developments which are looming," he added.
The Pope asked "fellow Christians, followers of other religions and all men of good will" to spend Saturday in prayer and fasting for Syria, the Middle East and the entire world.
The Vatican will host its own vigil and the Pope asked local churches to gather together for the same.
Pope Francis also argued that every individual has been tasked with the responsibility of creating peace.
"All men and women of good will are bound by the task of pursuing peace," he said. "With all my strength, I ask each party in this conflict to listen to the voice of their own conscience, not to close themselves in solely on their own interests, but rather to look at each other as brothers and decisively and courageously to follow the path of encounter and negotiation, and so overcome blind conflict."
The Pope has also used social media to continue his message of peace throughout the week, condemning the Syrian government's alleged use of chemical weapons but adamantly arguing that any force used against the country would only beget further violence.
"With utmost firmness I condemn the use of chemical weapons," he tweeted Tuesday, though previous tweets clarified that the Pope did not support military action against the country.
"How much suffering, how much devastation, how much pain has the use of arms carried in its wake," the Pope tweeted on Monday. "War never again! Never again war!"
Pope Francis also reminded his 2.9 million followers Christ's own example of peace.
"By his coming among us, Jesus transforms our lives. In him, we see that God is love, he is fidelity he is life who gives himself," the Pope added.