Prayer Stripped From School's Thanksgiving Performance After Atheist Group Complains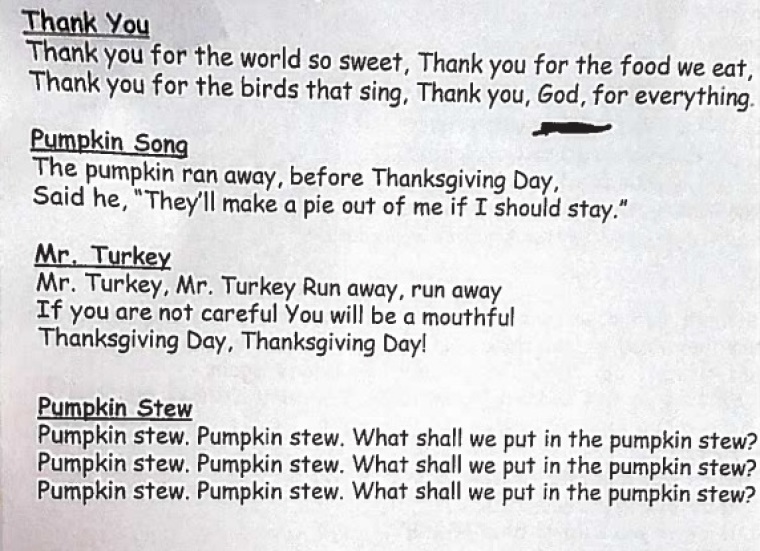 A school district in Arkansas removed a prayer thanking God from an elementary school's Thanksgiving program after it received a complaint from the nation's largest secular legal organization.
The Wisconsin-based Freedom From Religion Foundation has announced that the Westside Consolidated School District in Jonesboro has acted on its demands that a prayer reading be removed from Westside Elementary School's annual Thanksgiving performance in which students sing and recite various poems and readings.
FFRF, an organization that advocates for a strict separation of church and state and has over 24,000 members nationwide, was contacted by a concerned parent earlier this month after students were sent home with a printed handout that included lyrics and readings that students allegedly had to memorize for their upcoming Thanksgiving performance on Nov. 14.
According to FFRF, one of the readings on the paper states:
"Thank you for the world so sweet. Thank you for the food we eat. Thank you for the birds that sing. Thank you God for everything."
A letter, which was sent by FFRF attorney Colin McNamara to Superintendent Scott Gauntt on Nov. 10, demanded that the reading be removed from the public school's program. McNamara argued that such a performance would violate the Establishment Clause of the First Amendment to the United States Constitution.
McNamara cited a handful of Supreme Court cases that deal with the entanglement of religion in public schools such as Lee v. Weisman and Engle v. Vitale, the 1962 case in which the court found it unconstitutional for state officials to compose and encourage the recitation of an official school prayer.
"It is a violation of the Establishment Clause for a public school to teach a prayer to students," the letter states. "The school's intent to teach the prayer as part of a holiday celebration provides no defense. One federal Court of Appeals has already rejected a school's argument that reciting "Thank You for The World So Sweet" had a secular purpose and held that the primary purpose of reciting this prayer in a public school was to praise and thank a deity."
"Moreover, inducing young and impressionable children to give thanks to God is a usurpation of parental authority," the letter continues. "Only parents have the right to direct their child's religious upbringing — or lack thereof — not public schools."
According to FFRF, it didn't take long for Gauntt to respond to McNamara's letter. Gauntt reportedly told FFRF that the allegation had been investigated and proven to be true. Gauntt had the prayer removed from the program and discussed the issue with the elementary school's Principal Kelli Murray.
"We will be more diligent in the future in an attempt to uphold the letter of the law in regards to separation of church and state," Gauntt assured.
The Christian Post reached out to both Gauntt and Murray for comment but no response could be received by press time.
"It is commendable that the school district reviewed the violation and took sincere action to uphold its constitutional obligation to protect the students' rights of conscience," FFRF Co-President Annie Laurie Gaylor said in a statement.
FFRF regularly pressures school districts and public entities to refrain from promoting religion in any way.
Earlier this month, FFRF pressured a school district in Georgia to take action in response to a public high school's band performance titled "Paradise Lost: The Story of Adam and Eve," saying that such a performance can be considered a government endorsement of Christianity.
In August, an elementary school in New Mexico was forced to paint over a hallway mural after FFRF filed a complaint about how the mural included the words of "Hebrews 6:19."
Throughout the fall semester, FFRF has also issued a number of complaints about high school football coaches praying with their student-athletes.
One such complaint was filed against coach John Small of East Coweta High School in Georgia. The FFRF complaint led to Coweta County Schools issuing a legal memorandum stating that coaches and all school staff are not allowed to participate in student-led prayer.