Prayers pour out for Rickey Smiley after son's death: 'God hold them'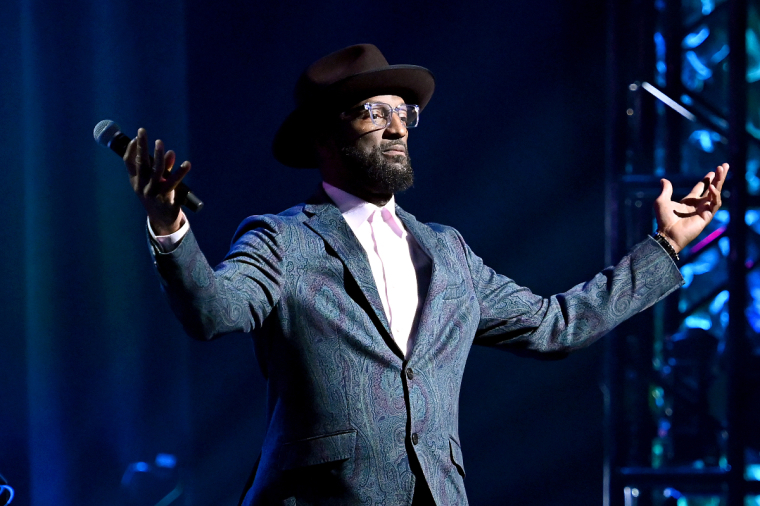 Christian comedian and nationally syndicated radio host Rickey Smiley announced the death of his eldest son, Brandon Smiley, in an emotional social media video.
The 54-year-old radio host told his 3.8 million Instagram followers Sunday that he was on his way to Birmingham, Alabama, because his 32-year-old son died.
"I hate to announce this, but I just want to give it to you before you hear it in the streets," Smiley shared. "My son Brandon Smiley has passed away this morning."
Noticeably shaken, Smiley recorded the video while he was waiting for a car to drive him to the airport. He did not share his son's cause of death. While pleading for Jesus to "have mercy," he asked people to pray for him and his family.
"I just want all my cousins and different family members to pray, be strong, and I'm OK," Smiley continued. "Pray for my son's mother and my son's siblings, everybody that was raised with Brandon."
In the video clip, the Sirius XM host revealed that his grandparents also buried their son, his father.
"Life comes with a whole bunch of twist and turns," he added. "Now I see what my granddaddy went through and why he felt the way he felt. My granddaddy went through this **** with my dad, and somehow, here I am going through the same thing my grandparents went through. So just pray for our family."
According to ​​WVTM13, the Jefferson County Coroner's Office in Alabama reported that Brandon Smiley "was found unresponsive at his home Sunday morning shortly after 10 a.m." He was taken to the University of Alamaba at Birmingham Hospital, where he died.
No evidence of foul play or trauma has been reported. The family awaits the cause of death to be determined by laboratory tests.
Upon his announcement, Smiley's celebrity friends shared their prayers in online comments.
"I'm devastated to hear that my friend @RickeySmiley has lost his son Brandon," Birmingham Mayor Randall Woodfin tweeted. "Rickey has given so much to our city; this is the time when we need to give back to him. Join me in wrapping our arms around him & his family during this difficult time. We're praying for you, Rickey."
Grammy Award-winning Gospel artist Jonathan McReynolds wrote under the Instagram video: "Oh no! I love u man. Praying! May these bad days prove that God is still good."
"Jesus!!!! I am so sorry," Gloden Globe-winning actress Taraji P Henson added. 
Reality TV star Yandy Smith wrote her prayer in the comments.
"My God. I pray over this man, this family. Please comfort them the only way you and your angels can. I pray for peace over their spirits. God hold them all at this time," she shared.
Fellow comedians and actors Mike Epps and Bill Bellamy indicated that they are praying. 
"My brother we are praying for you and your family… what is going on in this world….. so many of these heartbreaking moments. My condolences to you and your family," Bellamy penned.
Brandon Smiley was an actor and comedian as his father was.
He was seen his the reality series "Rickey Smiley For Real," which highlighted how Smiley juggled his career, fatherhood and personal life from his hometown of Birmingham to where he works in Atlanta, Georgia.
Following the video announcement, the grieving father shared a clip from one of his son's past stand-up performances.
Smiley also revealed in another video that the reality of his loss was setting in. He thanked everyone for holding him up in prayer and said his son was supposed to meet his grandmother for church the day he was found dead.

Smiley glorified God and thanked the Lord for the time he had with his son.